Pastor Dave Houck has helped people come out of prostitution, overcome drug addiction, escape gang life, find a home after prison and prepare for life outside Ocala National Forest. They are his friends, relatives and even nearly-adopted children, and they are the first to talk about what he has done for them. They all have one thing in common: They would not be where they are now without Houck.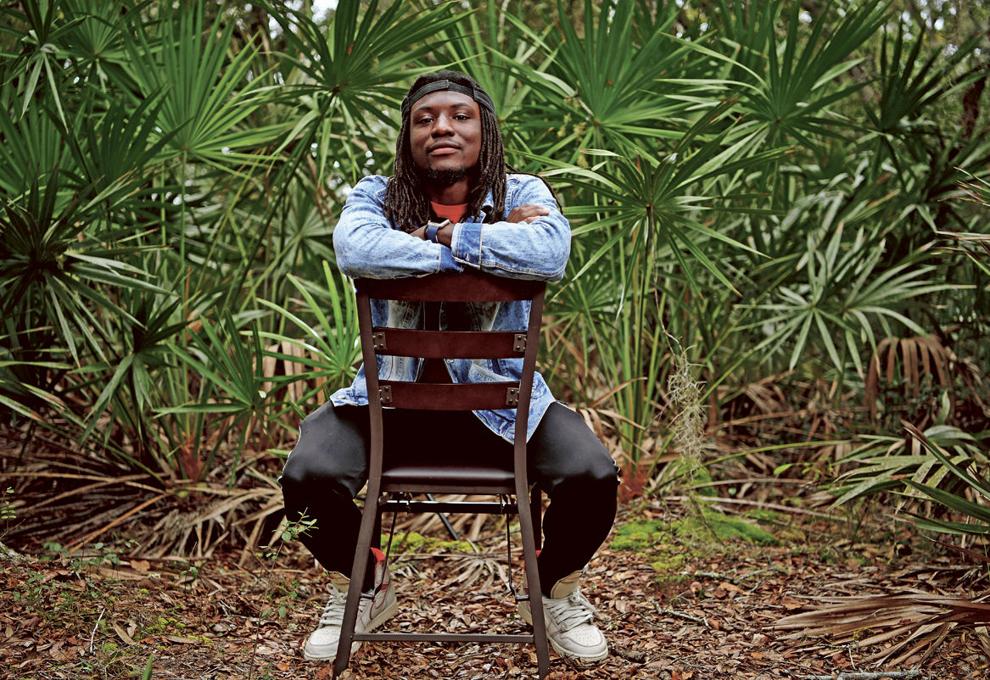 Jabari Woodard
Woodard is a 22-year-old College of Central Florida student and youth pastor at Salt Life Church.
Since he was a child, Jabari "Bari" Woodard said he was told he would be a pastor one day. Although he hasn't had a typical pathway to preaching, Woodard is well on his way to that goal.
When Woodard first met Houck and arrived at Camp SoZo in 2014 as a teen, he thought the camp would be a fun summer getaway. The first event of the day for the Jacksonville kid wasn't a cheesy icebreaker: It was digging up the septic tank.
"My first impression of him was, 'This dude's crazy,'" Woodard said. "He's a very headstrong type of dude, so when you meet him, you do what he says." It only took a week for Woodard to warm up to the crazy pastor from the forest though. Now, Woodard has been living on the camp with Houck for about three years. Woodard grew up homeless. At the time, he said he didn't recognize it for what it was. "Mom wouldn't let us know we were homeless or going to a food shelter," he said. "We were just having a sleep-over in a car." As he got older, Woodard said he recognized the cycle of poverty more, and his mom taught him not to be a product of their environment. This came to a head for his family, he said, when his brother was shot walking in the street to a convenience store. His brother lived, and Woodard, who was 15, remembers seeing his brother bleeding and hearing a voice tell him "You're not meant for this. Get out of here."
Woodard is now the youth pastor at Houck's church, Salt Life, in the forest, and he's in school for a pastoral degree.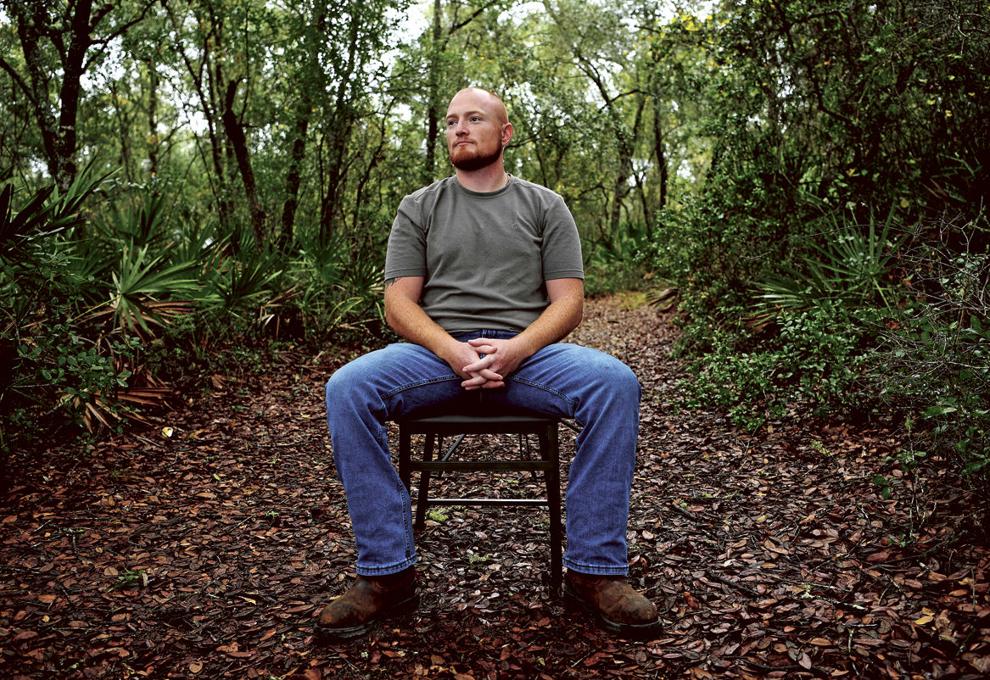 Jeremy Thomas
Thomas, 25, went to prison at 16 years old and came to live with the Houcks when he got out eight years later.
"He hit my mom. No one is going to hit my mom." When Jeremy Thomas, of Palatka, was 16 he said these words to a Putnam County Sheriff's deputy. The next eight years of his life were spent in prison for manslaughter with a weapon, putting his life on pause from August 2011 until June 2019.
In his home, Thomas said he felt a need to become "the man of the house" and protect his mother and younger sister from his mom's abusive boyfriend. When a fight between the two adults escalated and Thomas got in between them, he chose to use the pocket knife he carried for protection. After the boyfriend died from his wounds, Thomas's life changed forever.
"I wasn't a bad kid," Thomas said. "I never got in trouble before this." Six months before getting out of prison, Thomas met Houck.
"As soon as I told him my story, he just wanted to help me," Thomas said. Houck saw Thomas's plan might not be the best to propel him toward success, and invited him to live at the camp and help out. The offer, Thomas said, seemed like a better way to start life over again. Thomas – who earned certifications in HVAC, carpentry, masonry, plumbing, electrical and tiling while in prison — said he wants to be an underwater welder and will start school at Marion Technical Institute in the spring. He still has four years of probation — including a monthly fee — but he's teeming with a desire to prove himself and make up for lost time. "Meeting Dave was the push I needed," he said.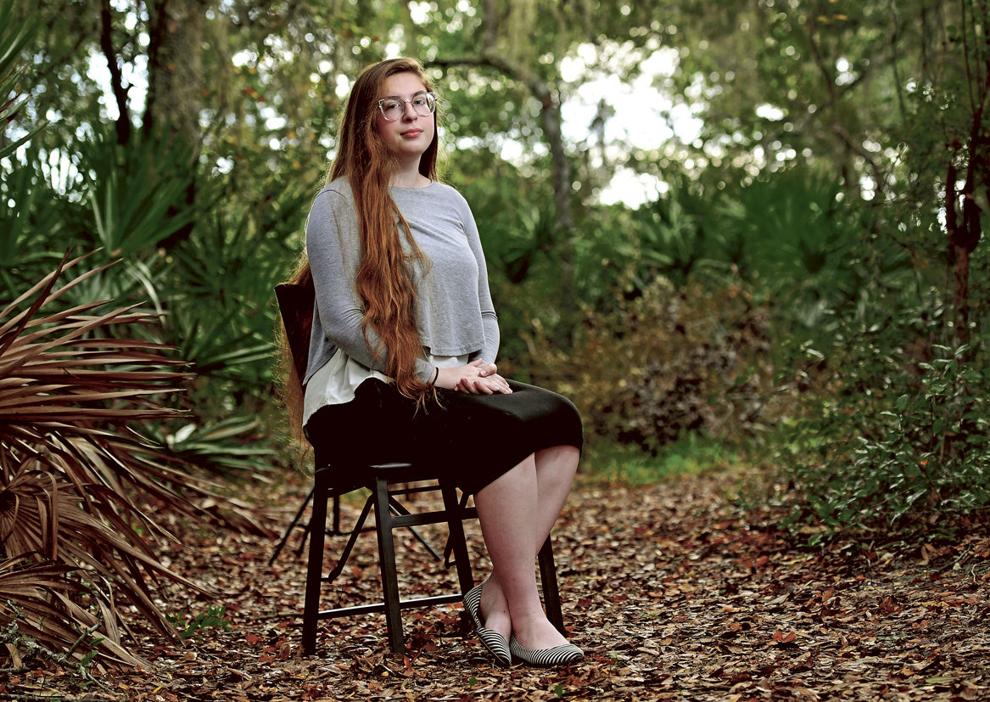 Kristen Henderson
A 20-year-old University of Florida senior, Henderson spent three years of her childhood living in the forest being mentored by the Houcks.
Dave and Tammy Houck are a few of the best the forest has to offer, said Kristen Henderson, a 20-year-old senior at the University of Florida.
"There aren't a lot of good things out there," she said. Henderson first met the Houcks when she was living in Ocala National Forest in fourth grade and began going to the mentor center near her house. "They were really nice and open to any kid that was there," she said, "even the problem kids."
Despite leaving the forest at 12 years old when her grandma died, Henderson said the Houcks still had a profound impact on her life.
"I can't even imagine the personality I would have had I not been in the center," she said. "It showed me how people can help others, even without a lot of time or money."
Henderson said she looks back fondly on the experiences the Houck family helped to give her, especially a trip to Epcot. It meant a lot to her and other kids who lived so close to the Disney theme parks and had never gone to one, she said. Faith has also been a characteristic in Henderson's life, in part because of her time with the Houcks. She is very involved in her church and goes to Bible study four or five days a week.
"Any time they're on my heart now, I pray for them," Henderson said.
Aside from improving her childhood, Henderson said the Houcks have influenced her career choices. Henderson plans to pursue her master's degree in social work after graduating in August and wants to work with foster kids.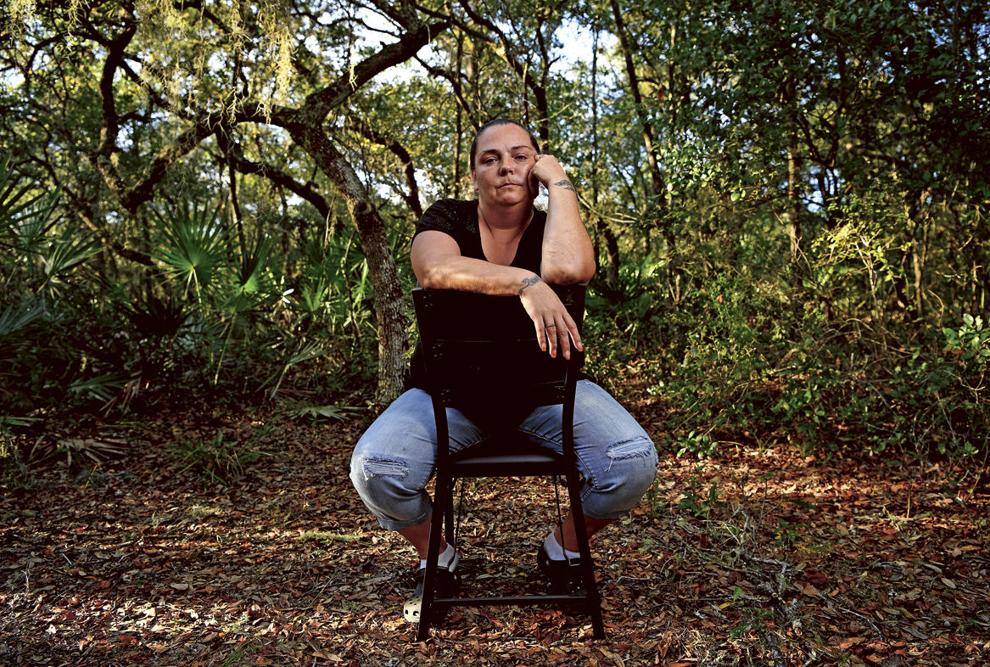 Missy McFarland
McFarland, 39, is an assistant manager at Dollar General and mother of four sons.
Five years ago, Missy McFarland said she was living in a closet with her 3-year-old son and now-husband. She had been addicted to drugs for 15 years and a prostitute for 10, she said.
She knew she was "living not a good life" but didn't see a way out until her cousin, Houck, sent her a Facebook message offering to help her recover. At first, McFarland said she viewed the offer, which came at her mother's urging, as a kind of intervention. Then, she saw it as an opportunity. She hopped on a plane from California to Florida with her son, leaving Enchante "Tay" McFarland  behind. Most people choose to leave Ocala National Forest to get back on their feet.
But McFarland, who hadn't lived in the forest since she was 6, decided to go back to reclaim her life. She's been sober since. Three months later, Tay followed. "My husband thanks me every day for leaving him," she said. McFarland attributes much of her ability to change her life to Houck.
She still helps Houck out whenever she can.
"Whatever he asks me to do," McFarland said, "food loads, backpacks, Christmas ... whatever he needs, he can call me." Her latest effort has resulted in her becoming the president of the local Little League.
After steering her life in a new direction, McFarland hopes to help others who might be in similar situations as hers. For now, she wants to cover up the tattoo on her neck of her former pimp's name with a butterfly – a final transformation to match the rest of her life.
"People tell me my story is powerful, but it's not to me," McFarland said. "It's just my life."