After four years of hard work and dedication, seniors from The Villages High School finally had their moment in the sun Saturday at The H.G. Morse Range. The ceremony started with "Pomp and Circumstance" played by the VHS band as the procession of graduating students marched along the track toward the central podium and seats. Isaac Cree and Johnathan Ballou, the valedictorian and salutatorian of the senior class, led their classmates following administration and academy instructors. The home and visitor grandstands were filled with family and friends of the graduating class, and immediate family took up the center row of seats behind the graduates.
Behind the parents and students, far into the northern end zone, graduates' faces were printed on laminated signs.
The entire ceremony took place under a 72-degree sky with light cloud coverage and an occasional gust of wind providing relief.
The event began with a greeting from Gary Lester, president of the school board, followed by VHS Principal Rob Grant, who led the remainder of the ceremony.
Wise Words from the Salutatorian
A recorded address from the salutatorian was broadcast on the stadium screen.
Johnathan Ballou began by requesting the audience participate in a "moment of silence, for everyone who could not be with us today." He spoke about how the COVID-19 pandemic left a defining mark on his class for having to endure and survive it for the past year and half while managing course loads of the final year of school.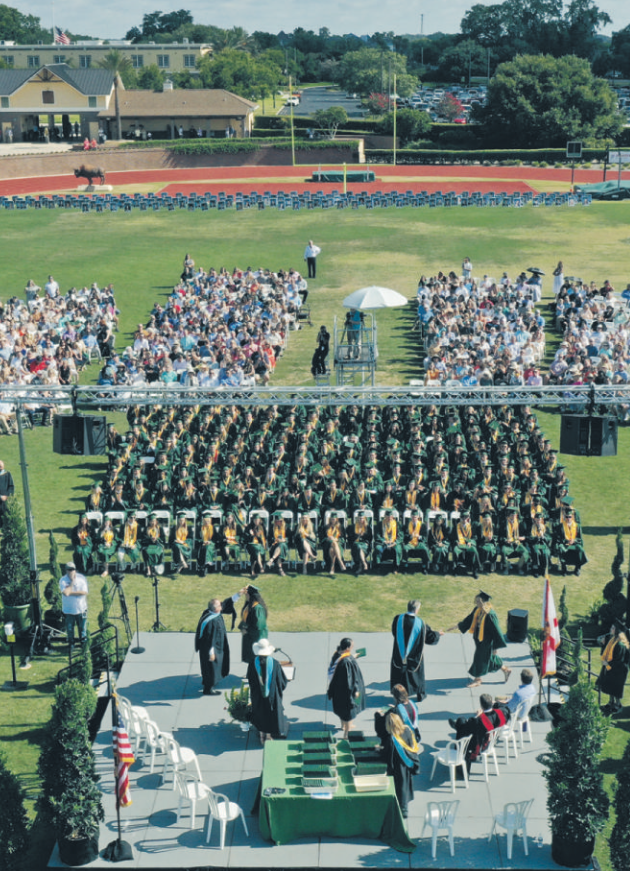 Johnathan spoke about how morning announcements for the past year included reminders of social distancing and other COVID-19 protocols, something students couldn't have imagined having to think about before 2020.
"One of the major challenges that all of us had to face over the past four years was the terrifying but ever-present question of how to spend our time?" Johnathan said. "Whether it was split between social life or sleep or schoolwork, we all had to sacrifice something we wanted to do for something that we had to do. However, because we made those difficult choices, we all stand now at the precipice of doing whatever we want to do for the rest of our lives."
Johnathan will be attending the University of Florida as an environmental science major. He graduated summa cum laude, earned his associate degree from Lake-Sumter State College through dual enrollment, participated in the National Honor Society and gave 183 hours of volunteer work to his community. 
Two Questions from the Valedictorian
Isaac Cree's valedictorian speech came after the salutatorian address.
"Whose life are you current living?" Isaac posed to the graduates. "We have all have been given unique talents and a unique purpose. But if we live our live chasing other people's talents and purposes, well, we'll never truly live."
He followed this question with another: "Who do you want to become?"
Isaac said some guiding principles he wished to impart on his graduating classmates included being authentic, humble and wise and "to be a leader and to be led."
Isaac urged others "to live by principle and not by circumstance. To be intentional and grateful. Giving and forgiving. To be loving, to be kind, to be brave, to be loyal, to be reverent and faithful. To be vibrant and always remember to be cheerful."
Isaac will be attending the University of Florida as a biology major with a minor in Spanish. He graduated summa cum laude as well, was a National Honor Society member and completed 424 community service hours.
A Happy Graduate 
Sophia Cederroth was among the graduating class and joined her family after the ceremony with tears and laughter shared among the group.
She was hopeful and ready to advance past graduation and into the adult world, she said.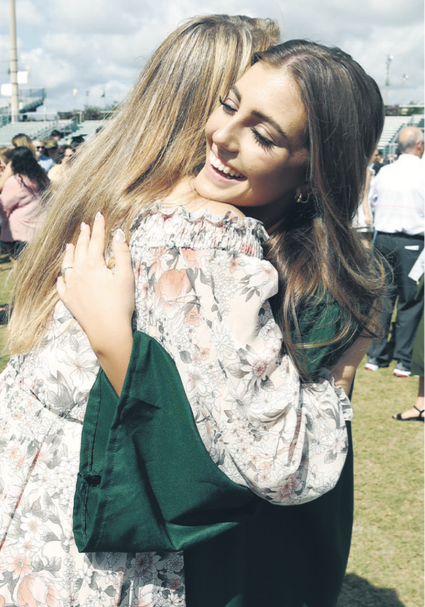 "Oh, my goodness, I'm so excited," she said "I'm so excited to start my next chapter of my life and start college and just ... be an adult."
She graduated magna cum laude, a member of the National Honor Society and having completed 173.5 community service hours.
The speeches ended with a sendoff from the chorus, which performed a rendition of "Wanting Memories," and a speech from Curtis Sprung, a VHS class of 2008 graduate and writer, editor and media specialist.
Sprung spoke about the class' need to accept failures and overcome them as the graduates take the next steps into their lives. 
Ending A School Career
Next, the students received their diplomas and shook hands with Randy McDaniel, VCS director of education.
Grant had the closing comments for the school's 21st graduating class, and he also spoke about the effect the pandemic had on this year's seniors during their final stretch of high school.
"The last year and half have been exceptionally trying, to say the least," Grant said. "But, if you can make it through a worldwide pandemic, then nothing can hold you back."
At one point, the graduating class screamed and cheered, "We love you Mr. Grant!"
Grant paused and said, "Stop it, you'll make me cry," in response, and got a roar of laughter in return.
The principal ended his address to graduates with the VCS battle cry: "Battle on Buffalo!"
Graduates rose to their feet and tossed their caps, which plummeted like rain as the crowd and graduates yelled, clapped and applauded. 
Staff Writer Garrett Shiflet can be reached at 352-753-1119, ext. 5367, or garrett.shiflet@thevillagesmedia.com.