University of Florida Health is teaming up with The Villages Health and state health and emergency management officials to bring drive-thru virus testing to the region Monday.
"We are so excited for Villages residents that they are going to have this greater access to testing," said Gary Lester, vice president of community relations for The Villages. "We're so grateful for Gov. DeSantis and our friends at University of Florida Health for bringing this higher level of care to our community."
The large-scale effort expects to test hundreds of people daily for the next five days at a site now in place at The Villages Polo Club. 
An appointment is required, and details on how to request one will be forthcoming. Testing is a critical part of tracking and containing infectious diseases like COVID-19.
But shortages in testing sites have become a central concern in increasingly urgent communications among governors and federal officials.
"We know demand for testing will be much higher than we can deliver initially and we ask for patience as this ramps up," said Jeff Lowenkron, chief medical director of The Villages Health.
Preregistration to receive an FDA-approved clinical test will involve an assessment for symptoms, travel and exposure history. Depending on the severity of their illness, people could potentially be further evaluated onsite or at a UF Health facility or sent home to self-quarantine while awaiting test results. Those tested at the drive-thru site will receive results within 72 hours.
Participants are asked to arrive by golf cart, but those in cars also will be tested.
People who do not yet have symptoms or meet standard clinical testing criteria but still want to be tested will have the opportunity to volunteer for testing through a UF research study that enables them to receive testing as part of an epidemiological protocol known as community surveillance.
The purpose of the study is to assess the degree of asymptomatic viral shedding at the onset of a COVID-19 outbreak. Researchers say it is a valuable public health activity to identify people with early disease or asymptomatic shedding of virus.
Training for Monday's testing was conducted on Saturday with volunteer medical, physician assistant and nursing students. In the coming week, 120 will be trained.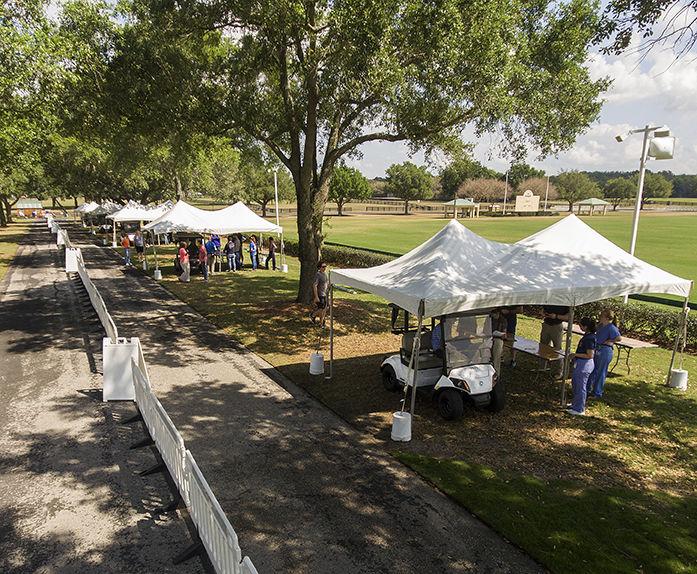 Testing site ready
It was a warm morning at the polo club, where disposable gloves that matched the color of the sunny sky were distributed to medical students sitting a chair apart from each other to encourage social distancing,
"I thought it would be a unique experience that I couldn't get literally any other time in my life," said Kayleigh Porritt, 22.
Dr. David Nelson, UF's senior vice president for health affairs and president of UF Health, praised the students for their willingness to help.
"We're going to work hard to improve the health of this community, which will also help preserve our health care workforce during this epidemic," he said. "And you guys are going to be the ones who helped make it happen."
 Dr. Michael Lauzardo demonstrated the proper process of suiting up in personal protective equipment.
Lauzardo, deputy director of the UF Emerging Pathogens Institute and an associate professor within the division of infectious diseases and global medicine at the UF College of Medicine, said UF Health considers The Villages part of its community. He thanked the student volunteers for the work they will be doing.
"This is a bad time, but it's a great time — it's a great time to do some good," he said. "You're going to tell your grandchildren about this, and it's going to be an opportunity for us to stand up to do the right thing, to do what we were meant to do."
Students did not use most of the hard-to-come-by protective medical equipment Saturday, only sliding on surgical gloves to practice nasal swabbing on each other.
Zereen Sarwar, 24, pulled out a pocket-sized bottle of vanilla hand sanitizer and offered it to her practice partner Apara Agarwal, 23.
Agarwal's knee jerked after Sarwar placed the swab in her nostril. 
"Sorry, I'm really ticklish," Agarwal said, laughing.
Volunteers also practiced talking to patients, venturing to the tents where people being tested will park.
Joanne de Andrade's fellow students complimented her enunciation as she rehearsed talking to a resident. She said she felt well equipped to start working with real patients next week.
Dr. Jeff Lowenkron, chief medical officer for The Villages Health, said he's thrilled to see testing coming to a community rich in senior citizens, an age group that is more susceptible to complications of the disease.
"This is really a critical place to make sure that we keep people as healthy as possible," he said.
Before volunteering, Agarwal said that, like most other students, she was sitting at home studying online with her 10-month-old foster dog, Dexter, at her feet.
With the free clinic where she volunteered closed, she was looking for a way to contribute. The drive-thru testing provided that.
"It's nice to somehow still feel like we're giving back to the community because we're all going into this profession for a reason," Agarwal said. "When things like this happen, one of the first things you want to know is, 'how can I help?'"
Medical student Jesse Caron, 25, also said he was grateful for the opportunity to participate, even though it meant shaving his beard to ensure the proper seal on his respirator mask.
Caron said he knew it was a possibility after one of his professors, who said he hadn't shaved in 15 years, returned to class clean-shaven.
"I'm even considering a buzzcut," Caron said. "I need a haircut anyway."
More testing advances
News of the drive-thru testing initiative in The Villages comes on the heels of UF Health's rollout last week of in-house testing capabilities made possible through its partnership with the Florida Department of Health. This in-house capability greatly speeds the delivery of results for UF Health patients in Alachua, Marion, Duval, Lake and Sumter counties as Florida battles the growing health emergency, officials said.
Being able to do tests internally means UF Health physicians and patients can get results within 24 hours, far faster than other methods of testing outside the health system, officials say. Turnaround at commercial labs, for example, can take three to five days.
"We're now able to identify patients much more quickly who have been exposed or have the virus," Nelson said. "And most importantly for us, we'll be able to find out who needs to be quarantined and who their contacts were."
The first UF Health patients were tested in-house using CDC testing kits. UF Health will have the capability to run up to 800 tests daily, with the opportunity to scale up over the next few weeks, said Michael J. Clare-Salzler, M.D., a professor and chair of the department of pathology, immunology and laboratory medicine in the UF College of Medicine.
But UF Health is working in shifts around the clock, seven days a week to ramp up testing further, with additional technicians being trained to help meet demand, he said.
"We're trying to assemble the tools that will help us to contain the pandemic and to minimize the number of people infected and minimize the number of infections that lead to severe disease or death," he said.
Testing will be available for UF Health patients through referrals at UF Health facilities across the health system, including The Villages for patients who meet clinical criteria for testing.
Locally, UF Health operates UF The Villages Hospital, UF Leesburg Hospital and UF Health The Villages Hospital Freestanding Emergency Room. It has announced plans for a second hospital in The Villages in the coming years.
"We are grateful that our residents have access to this advanced level of testing," said Mark Morse, president of The Villages. "The collaboration between The Villages and UF Health is tremendously beneficial to the health of our community."