Florida high school students will have a new class to take this fall. Each of them must complete CPR training to graduate, Gov. Ron DeSantis has ordered 18 months after the Daily Sun called on him to do so. Florida now joins all but nine states in this requirement, a move the newspaper pushed for hard in its 18-month investigation into cardiac save rates and ongoing reporting on the issue. Experts say that every second counts in a cardiac event since a patient will typically lose brain function within four minutes. For every one minute delay in starting CPR, the chance of survival decreases by 10%. Nearly half a million Americans die from cardiac arrest each year, according to the American Heart Association.
The agency says that CPR, when started immediately, can double or triple a person's chance of surviving cardiac arrest.
The legislation for high schoolers, was first authored by Sen. Kevin Rader, D-Delray Beach in 2019, after the Daily Sun published its investigation. The revised bill passed unanimously this April, requiring school districts statewide to provide training to all students in ninth and 11th grades.
"We'll have an army of life savers, year after year, that know what to do," Edward Kosiec, a Boynton Beach businessman whose life was saved by a high school boy who performed CPR on him in a restaurant, recounted to legislators.
Locally, it's also the newest benefit to a community that already gave this training to his high schoolers, and that boasts a cardiac save rate above the national average.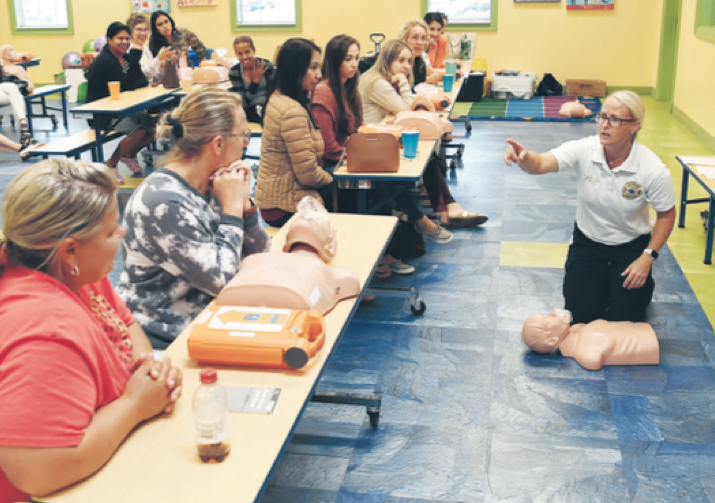 Much of that is attributed to its unique automatic external defibrillator (AED) program that makes private citizens part of the emergency response system.
Trained residents in the program receive a text alert whenever 911 dispatchers sound the alarm to EMS units, allowing a neighbor to start CPR and AED use before responders arrive.
The Daily Sun's exhaustive local canvassing and national analysis found that in 2019 The Villages had more AEDs per capita than any other U.S. community for which data is available.
That year, an AED was deployed in 35% of the 17 cases in which lives were saved during cardiac events. Bystanders played a role in 77% of those rescues.
Meanwhile nationally, an AED was used less than 12% of the time and only 39% of such patients got CPR from a bystander, according to the Cardiac Arrest Registry to Enchance Survival, a CDC- Emory University project that tracks such data.
Copies of the Daily Sun's investigation were delivered to each member of the Florida Senate and House of Representatives subcommittees on health.
In the 18 months since the last installment was published:
The number of AEDs placed throughout the community has grown another 24%, from 753 to at least 980.
Most of that growth is in the Neighbors Saving Neighbors, which had added at least 145 more AEDs across its 249 neighborhoods.
More than 1,500 local citizens have been trained in AED sue by The Villages Public Saftey, and nearly 1,000 more by volunteers with the Community Emergency Response Team.
At least 47 EMS providers and 170 hospitals in Florida have supplied
Community Watch began arming its foot patrols with AEDs nightly from 5 to 9 p.m. on the three town squares.
The Sumter County Sheriff's office has installed more than 80 AEDs in its vehicles.
About 88% of cardiac arrests take place in homes, so "The more people who get trained, the more available responders there are," said EMS Division Chief Kara Watts of The Villages Public Safety Department.
The Villages Public Safety answered 126 cardiac-arrest calls last year.
"The fact that a lot of groups now know (proper procedure) has really facilitated the process of vetting on scene and establishing patient care," Watts said.
Numerous residents of The Villages have benefitted from such knowledge when they least expected it.
The Neighbors Saving Neighbors program was brought here by Lew Simon, of the Village of Glenbrook decades ago. Since then, two of Simon's neighbors on St. James Circle have been saved by the program.
"What more can you ask for than that?" Simon said.
Jerry Williams was headed to a cruise port in New York in 2017 when he collapsed while walking with his wife through LaGuardia Airport.
"I ended up needing quadruple-bypass surgery," said Williams, who was kept alive by CPR from a bystander he's never been able to identify. "I have no idea who it was. It's amazing, really."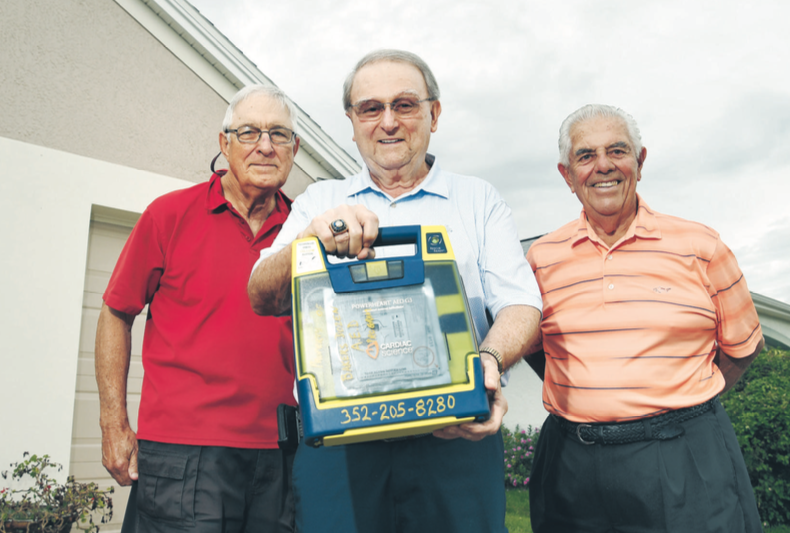 Mike Garvin, who himself was saved by an AED at the Sharon L. Morse Medical Building 19 years ago, has been playing golf, playing and umpiring thousands of softball games since.
"It's a really solid program," he said. "It's just a matter of continuing it."
For more information on the "Neighbors Saving Neighbors" program or to register for The Villages Public Safety Department's CPR classes, call (352) 205-8280.
Specialty Editor Bill Zimmerman can be reached at 352-753-1119, ext. 5284, or bill.zimmerman@thevillagesmedia.com