Delores Lancaster wiped away a tear as she looked at the full trunk of food before her. The Leesburg resident was overwhelmed with relief by the thought that she would have more than enough food for the week.
As she turned to shut her trunk, she noticed a tree decorated with hats from the crafting group Abundance of Love.
She made her way to the tree and picked up a hat, turning it slowly in her hands before smiling and looking for a matching scarf.
"It's been hard having my sister in the hospital and being left alone," she said. "Without the help of Beyond the Walls food pantry, I wouldn't be able to have food for the week. Without them, I also wouldn't have time to visit my sister, who will love this hat and scarf."
Over the course of the last year, residents like Lancaster have turned to nonprofits and other local groups for help.
Having used fundraisers in the past to help settle some of the costs that arise, members of these groups knew they needed to adapt their mediums of fundraising to continue serving the community during the course of the coronavirus pandemic. Local groups including The Rotary Clubs of The Villages, The Lions Clubs, Operation Shoebox and Veterans Helping Veterans are among those who developed new methods to help the community by bringing forth new fundraising trends and adapting former fundraisers, leading people to step up in ways like never before.
A report in the Growth in Giving Database, the world's largest publicly available database of actual donations to nonprofits in the United States and Canada, said that the effects of the pandemic on donations were seen across all types and sizes of nonprofits.
"In March alone, we saw an 11% decline in donations, which was almost certainly a reflection of the impact of COVID-19," said Elizabeth Boris, chair of the Growth in Giving Steering Committee. "Most special events and other fundraising events were canceled or postponed by the end of March and unfortunately, very few nonprofits were immune to the virus. But we did find some signs of hope, as we found donations under $250 were up 6%, which was impressive as mid-level gifts, $250-$999, decreased by 2.2% and higher-level gifts, $1,000 or more, dropped by 7.4%."
Boris added that while she thinks nonprofits took a deep breath like the rest of the planet, they do have a history of rebounding and innovating during adversity.
"Nonprofits are resilient and mission-driven because they are supported by everyday people who care about their communities," she said. "The Villages is known as a place of great giving, and it can be seen in the work the nonprofits do to help others."
The Importance of Fundraising
Fundraisers were created not only to help raise money, but also awareness for a variety of issues. While The Villages itself may not show a lot of need, taking a step outside into the surrounding communities paints a picture of various groups and individuals seeking a helping hand.
When people move into the Villages, many look for a way to play a role of helping those in need.
Each time they hear about a need, they step up to the plate to fill the gap and help ease some of those burdens like what Lancaster experiences on a daily basis.
"Without the help of local food pantries like Beyond the Walls, I wouldn't be able to eat," said Lancaster. "But it's not because I don't want to get a job, it's because I am incapable of working due to health reasons."
Lancaster is the only one in her family that is able to provide for her family while her sister is in the hospital.
"If it wasn't for my sister, I would be homeless," she said. "But until we know how long she will be in the hospital, I am left to my own devices, and the pandemic has made it much harder."
Lancaster isn't alone. The number of people out of jobs grew during the pandemic when the stay at home order was put into place in March 2020.
Families were left scrambling over how they were going to take care of their families and pay the bills.
Shantá R. Robinson, a Research Affiliate at Inclusive Economy Lab and an assistant professor at the Crown Family School of Social Work, Policy, and Practice with the University of Chicago, said that researchers expect that the pandemic increased the number of families experiencing homelessness.
"We have seen it here in Chicago as the number of homeless students has increased, but we have also seen first-hand the increase of those who are homeless, especially in rural or poverty-stricken areas," she said.
New Trends
During the pandemic, new fundraising trends emerged as local groups worked to continue helping those in need. The three Rotary Clubs of The Villages and the two Lions Clubs took to food drives in place of normal fundraisers as members looked for ways to help the community.
Nationally, December is an important month for nonprofit revenues, as Christmas and end-of-year tax deductions drive a flood of charitable giving, but many of the events that are normally held during this time was canceled because of effects from COVID-19.
"The Salvation Army, who was already down 18% in funding for the year, had to find new ways to project its Red Kettle campaign," said General Brian Peddle, of the International Headquarters for The Salvation Army in a news release. "We had to come up with new ways to continue to support the Red Kettle campaign as a lot of the bell ringing volunteers contain older helpers - some who dress as Santa Claus - and weren't able to help because they were higher risk for the virus."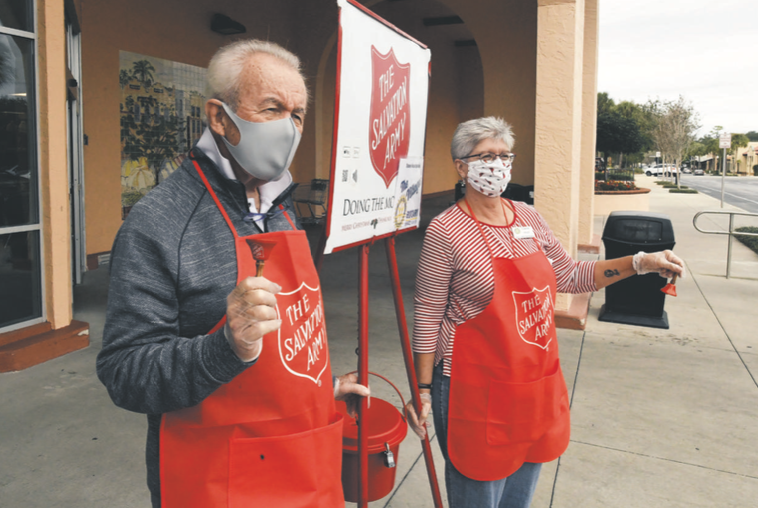 Taking this information, The Salvation Army moved the campaign online and accepted credit and debit card donations in addition to those mailed in by check.
"We found that this system was effective, but we only netted about half what we normally do," Peddle said.
However, despite the pandemic, The Giving Tuesday Data Commons estimated that there was a 23% jump in the number of people who participated in the movement to donate on the Tuesday after Thanksgiving in the U.S.
"This year, around 16.8 million people across the country gave a collective $2.47 billion around Dec. 1," the study said. "A 25% increase in total dollars compared to Giving Tuesday in 2019."
The Ford Foundation also surpassed the previous year's total, giving $580 million in grants.
"Even in the best of times, even the most well-known nonprofits live on the edge financially," said Hilary Pennington, an executive vice president at Ford. "Even surpassing the $580 million in grants, we gave another $400 million though a bond, which we used to help keep afloat."
But Meals on Wheels found that its 5,000 community programs on average, served 77% more meals in 2020 compared to 2019.
"The program had to make do with around 40 fewer active volunteers compared to the last," said Adam Porter, Meals on Wheels director for Sound Generations, a nonprofit located in Seattle. "We feared the worst because volunteers typically deliver more than half of the hundreds of thousands of meal kits the organization provides to the elderly, but we gave it our best shot and reached levels we never anticipated."
Locally, Villages residents were more determined than ever to overcome challenges brought on by the pandemic.
Away went the Chinese Auction held by The Lake Sumter Lions to help raise funds for scholarships for local students, Bingos held by Operation Shoebox to help send care packages to active military personnel and fundraisers held by The Rotary Clubs of The Villages for a variety of causes.
John Hanna was amazed at the numbers on the page. The first year of combined food drives for both The Lake Sumter Lions Club and The Orange Blossom Gardens Lions Club brought in more than he ever could have imagined.
"The community really stepped up," the Village of Amelia resident said. "We knew there would be multiple donations coming in, but we never expected to see this amount."
Having followed the example of Rotary Clubs throughout the tri-county area, when members heard there was a local need for food, they came up with the idea of also holding a food drive to not only help the community, but to bring the club together.
The first year of food drives between the two groups brought in well over 10,000 pounds of food, which was divided up between multiple food pantries within the surrounding area.
Operation Shoebox and Dollars for Scholars turned to monetary donations and driveway concerts.
"It was a way for us to all work together while also helping the entire community with their array of causes," said Joyce Gilette, president of Dollars for Scholars. "We had the driveway parties to raise money for scholarships for local students, but I know Operation Shoebox also had a few to help with things for active military. We weren't able to have our big fundraisers, because there were guidelines for social distancing, so we found alternatives at a lower capacity."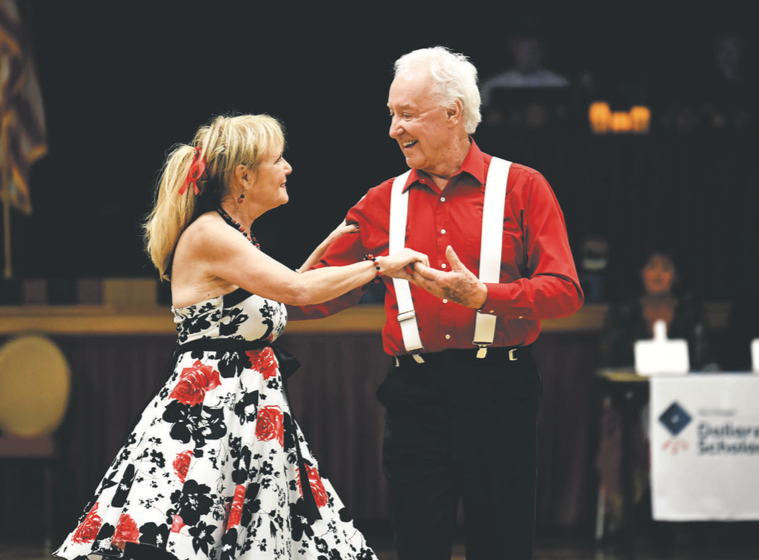 Meanwhile, members of The Girl Scouts Alumnae Silver Trefoil Group of The Villages found a new way to collect pajamas and books during their annual drive.
"When we weren't able to have the collection bins inside of the recreation centers, we took to the sidewalks in front of the recreation centers," said Judy Schober, of the Village of Pine Hills and a member of the group. "It was harder, but we still collected over 7,000 pajamas and over 3,000 books. Without the community, we would have collected a fraction of that."
David Berlan, Assistant Professor of Public Administration, Askew School of Public Administration and Policy for Florida State University said the techniques Villages residents use is what makes them successful.
"The Villages is a giving community of individuals all working towards the same cause," he said. "... They band together and make it a top priority mission. What I mean by that, is that they come together and treat it as a family matter, finding the best approach for a solution to the problem."
Adapting Big Fundraisers
The annual College Colors Day event also was modified in 2020. Instead of collecting food to be donated to four pantries like in the past, the event turned to collecting money.
The event was extremely successful, bringing in $48,312 - the equivalent of 54,900 pounds of food - over the course of two weeks. That money was then split to benefit four local food pantries: Beyond the Walls, Christian Food Pantry of Lady Lake, Grace Tabernacle and the Wildwood Soup Kitchen.
While there wasn't a party on the square, residents still came together to show off their spirit by dressing in their favorite college colors and submitting photos of themselves participating to the Daily Sun.
Local social groups like The Lions Clubs, The Rotary Clubs of The Villages and The Villages Parrot Heads also held food drives where donations were dropped off in a drive through style and then later taken to be sorted and split between the pantries the club members were helping.
Seeds of Hope hosted annual concerts to help raise awareness for the Wildwood Food Pantry and the Wildwood Soup Kitchen.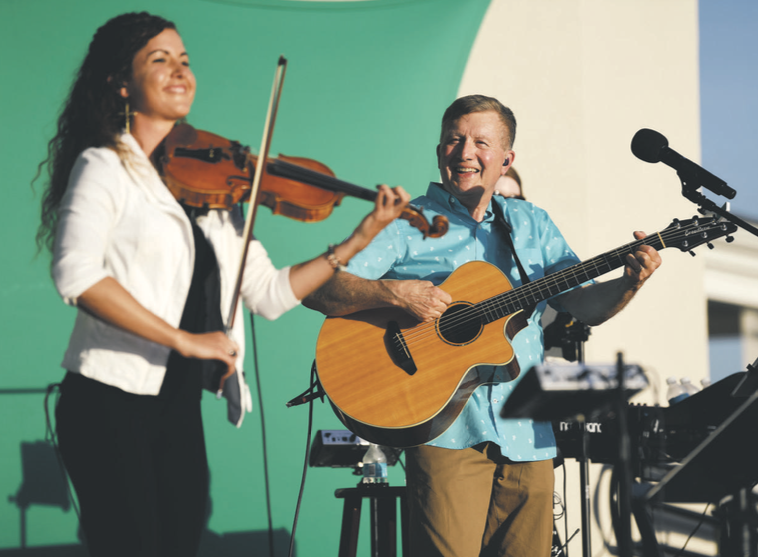 "We knew there were still people out there who needed help," said Kay Vierk, co-cordinator for Seeds of Hope. "We knew we had to keep raising awareness to help those who turn to those pantries for help, but were limited our concerts, so we turned to an online platform and had social distanced concerts.
But they weren't the only ones who heard the call for help.
"We heard about the needs and then we saw through the food pantries just how many people needed help," said Mark Woodland, president of The Villages Parrot Heads. "We just wanted to be part of a movement that we saw throughout The Villages and help feed those within and outside of the community. You never know what type of situation is going through and we try to leave the world a little better than how we found it."
Taste of The Villages, an annual event that benefits the Lazarus Free Medical Equipment, was going to cancel its event, until members found an alternative.
"We came up with the idea to hold a virtual event where people could donate money and receive coupons for participating restaurants," said Renee Baker, Special Events and Development for Catholic Charities of Central Florida. "For about $75, the cost to sponsor a patient at the clinic, participants received coupons to all participating restaurants along with receiving access to recipes, virtual Q and A's and a chance to win in a chance drawing."
Baker said the fundraiser was such a success that they extended it for an additional month.
"It was great to bring businesses and the community together," she said. "We wouldn't survive without each other and it really showed that we could step up and be a big family when the situation calls for it."
The Response
Residents stepped up in a variety of ways to help those in need, while also presenting opportunities to stay active.
By converting annual in-person walks to virtual events, more people were able to participate, in turn raising more money and awareness.
The Walk to End Alzhiemer's became a popular event that followed this practice, with people walking on the trails, riding bicycles and driving in decorated golf carts.
"We were able to raise a lot of money for awareness and future research," said Steve Waterhouse, a board member for the Central and North Florida chapter for the Alzheimer's Association. "Gina, my wife, was diagnosed with the disease, and it's wonderful to see so many people come together to raise funds. It brought the entire community together as there were walks in every square and throughout the various neighborhoods in The Villages."
The Walk to End Alzheimer's event, in which 311 participants from 42 teams did the virtual walk presented by The Rotary Clubs of The Villages, brought in $77,225, according to Terry Boynton, manager for Walk to End Alzheimer's for the Central and North Florida Chapter of the Alzheimer's Association.
"It was great to bring businesses and the community together. We wouldn't survive without each other and it really showed that we could step up and be a big family when the situation calls for it." — RENEE BAKER, Special events and development for Catholic Charities of Central Florida
This wasn't the community's only major fundraising event that had to be adapted.
Members of Operation Shoebox were not able to gather in a large capacity to pack care packages for active military personnel overseas, so Bonnie and Gene White, of the Village of Pine Hills, stepped up and went to Operation Shoebox's thrift store in Belleview to work on packing the boxes and getting them shipped out.
"We missed being around all the people," Bonnie said. "But, we were able to get a lot done and over the course of the year, we were still able to send out around 30,698 care packages."
All over the country, people stepped up to help first responders by making masks and donating money.
The Busy Hands, Happy Hearts crafting group made hundreds of masks and donated them to first responders including local law enforcement, local fire fighters and those at UF Health The Villages Hospital.
"We had time on our hands and we wanted to help out," said Karen Nehrenz, president of the group. "We usually make bags for children at the local schools, but when the pandemic came, we were worried about equipment shortages and people getting sick, so we created and donated masks. It was a time the community really came together to help each other."
Across the nation, similar trends also crept up.
"Using a GoFundMe platform, a fundraiser called A Million Masks, which was organized by three New York City residents to raise money to buy emergency Personal Protective Equipment (PPE) for frontline hospital workers in the city," said Charlotte Edmond, a contributor to the World Economic Forum. "But this wasn't the only example that popped up nationally. All over the world, families came together to help raise money for hospital beds, equipment for first responders, started fundraisers that people could do from their own homes and came together as a community to help feed residents throughout their community and the surrounding areas."
Even as food drives are now starting to slow down nationally, locally clubs in The Villages are still coming together to meet the need. i
"We know things are starting to go back to normal and that the virus is coming in waves, but we also know people depend on us," said Hanna. "It's one reason why we continue to help those in need, because they have become like our family."
Picking Back Up
While residents are still being cautious, local fundraisers are beginning to pick back up.
The Asian American club partnered with Vintage Productions to have its annual dinner in June. Limiting the number of people who could attend, the club used a ticket system to bring residents in to enjoy in dinner and a show.
Members of Vintage Productions and the Asian American Club performed a series of skits, dances and songs while others watched and commented on the performances. All money collected from the event, around $450, was then donated to The Wildwood Soup Kitchen.
Other events throughout The Villages also have begun to pick up as volunteers for Operation Shoebox have returned to monthly Bingo fundraisers and are preparing for the Chinese Auction, one of the group's largest fundraisers.
"We weren't able to fundraise for a little over a year," said Camille Gieck, president of Operation Shoebox. "If it weren't for the donations and generosity of the community, I'm not sure what we would have done. We are extremely thankful that things are slowly returning to normal and that we can continue our mission of helping the military feel a little at home."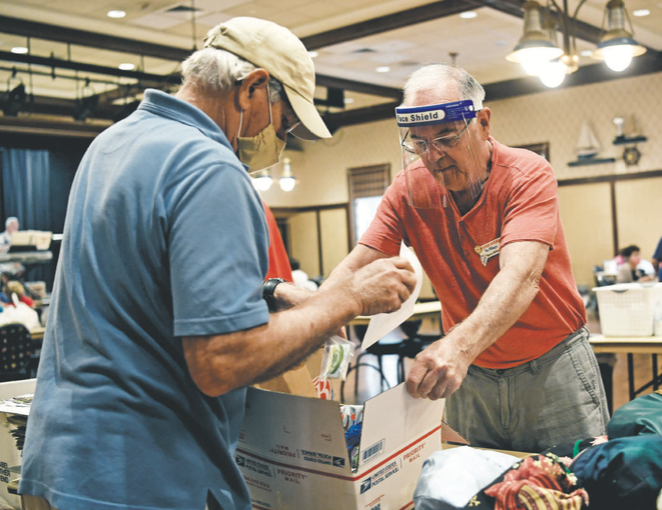 The Villages Habitat for Humanity Club took the chance during COVID to work on their first build. Using online platforms for fundraising and accepting donations in limited capacity, the team was able to complete the home faster than expected.
"It was easy to step up and work on something for someone else," said Kevin Tucker, president of the club. "We were limited on all the things we could do, so we worked in small groups to finish the house."
Members of Dollars for Scholars are pleased that they too will be able to not only continue the driveway parties they have held throughout the pandemic, but also bring back productions like "Starry, Starry Night" and "Dancing With Our Stars," which showcases the talents of Villages residents while also raising money for student scholarships.
Villagers for Veterans also recently held its Orchid Gala at the Brownwood Hotel and Spa, raising  $78,500 to support Ashley's House, a proposed transitional housing project in Eustis that will benefit homeless women veterans.
"The event was a huge success," said Marie Bogdonoff, founder and president of the group. "The Brownwood Hotel and Spa and their staff were amazing and the entertainers did a great tribute to our veterans."
UF Health The Villages Hospital Auxiliary Foundation looks forward to welcoming back more volunteers as safety guidelines continue to change.
"We love our volunteers and it was weird not having them around," said Lou Emmert, volunteer coordinator for the foundation. "When they walk through the halls, they are like beacons of light and they help the staff so much. They have remained positive no matter the situation."
As the food pantries begin to also welcome back their volunteers and are receiving an abundance of food from local groups, Lancaster said she feels hope.
"For a while, things were very bleak," she said. "Watching how a community comes together and makes you feel like you are a part of the family changes everything. It feels nice to know that whatever happens down the road, I can always turn to this community for help."
Senior writer Andrea Davis can be reached at 352-753-1119, ext. 5374, or andrea.davis@thevillagesmedia.com.