Hugging loved ones. Shaking hands. Going to school. Grabbing dinner at a restaurant. Visiting elderly family members. The activities that define our sense of normalcy are finally returning, one year after the coronavirus outbreak was officially declared a pandemic.
The COVID-19 vaccine eligibility age in Florida will drop to those 50 and older Monday, Gov. Ron DeSantis has announced as America reached 100 million vaccinations.
Nearly 70% of Florida's seniors have been vaccinated, DeSantis said, with vaccines that would be available to every adult by May 1. And during the past week, Florida has seen a decrease in virus deaths of 17% from the average two weeks earlier.
It's welcome news for a state that has seen more than 2 million cases and nearly 33,000 deaths — a rate that is still no worse than the national average, and better than that of some other states that imposed more restrictions, despite its large numbers of retirees, young partyers and tourists.
"We've had a huge response for seniors," DeSantis said of the smoothing-out of a bumpy vaccine rollout.
"It's really been incredible to see so many folks be able to feel good without as much worry as they have had."
Nancy Boe  already plans to be surrounded by family on Thanksgiving — something the mother of three, grandmother of nine and great-grandmother of 11 has been longing for.
Boe, of the Village of Mallory Square, learned how to use Zoom last Easter for a 24-person virtual holiday party where she first saw her 10th great-grandchild — the youngest member of the family at the time.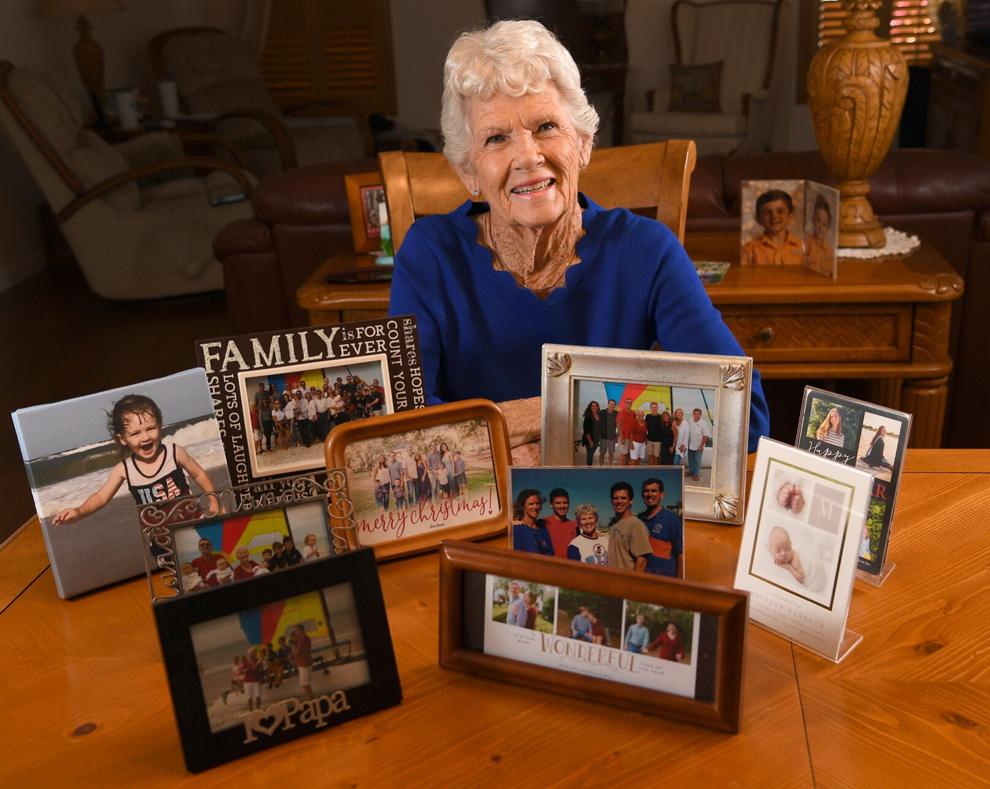 She and her husband are among the 3 million Florida seniors vaccinated so far.
"It's already such a special day, and to be able to have all the family together — as we will this year — makes it even better," she said. "We're both in our late 80s, so it's a really good feeling to get the entire family together. It will be an especially thankful Thanksgiving Day."
The pandemic has left us all with valuable lessons about surviving and innovating.
We are reinventing business, staying connected remotely, learning virtually, advancing scientific breakthroughs at record speed and sacrificing for the greater good.
Despite concerns that older adults would face a mental health crisis stemming from loneliness and isolation due to lockdown measures during the pandemic, several studies found that older adults are actually more resilient to anxiety, depression, and stress than younger populations.
Locally, when masks were hard to find, countless residents, congregants and members of sewing groups used their talents to make more.
When live entertainment came to a halt, popular performers such as Billie Thatcher and the Beatlemaniacs held driveway concerts so music-lovers could socially distance outdoors. The Sharon L. Morse Performing Arts Center and The Studio Theatre Tierra del Sol also produced virtual plays.
Local athletes turned to online training and virtual athletic events to keep their competitive spirits alive.
Oxford Assembly of God had its members send pictures of their families dressed in their Easter outfits for the church's Facebook page to help it still feel like a special time.
Members of The Nifty Fifty club organized a "Medical Provider Appreciation Night," where residents stood in their driveways and applauded health care workers.
Charitable giving has continued, for example, $290,000 recently for UF Health The Villages Hospital Auxiliary Foundation and The Villages Homeowners Advocates in the 15th annual Hearts for Our Hospital virtual Gala.
The ability to be emotionally resilient when our life gets turned upside down usually becomes easier with age, said Lucy Rathier, psychologist with The Villages Health.
"Our resiliency can come from looking at the past and how we dealt with challenging situations back then," Rathier said. "When things didn't fall into place in our lives the way we thought they would, did we look at it as an opportunity for personal development and find flexible ways to cope with the situation?"
Having opportunities to get outside for sun and fresh air can also help people regulate emotions.
 "We have a lot to be thankful for here because there are a lot of safe places for one to walk or ride a bike or use outdoor exercise equipment," she said. "Even if it's a 15-minute walk, it can be helpful to getting out of the house."
Brooke Leever, another psychologist with The Villages Health, said last year she had more people seeking her services.
"Which is good, because they are using their resources and acknowledging that they are being affected," she said. "It's helpful to be able to talk to someone and let them know how you're doing. Resilience doesn't mean we don't have stress and negative emotions. It means there is a stress and a pain here, and we have to acknowledge that and meet some fear with some courage."
That sense of courage has set Florida apart from the rest of the nation, a state that slowed dramatically during the worst of the pandemic but only briefly closed.
As a result, New Yorkers and Californians kept moving in. Today, Florida's unemployment rate is 4.8 percent, compared to 9 percent in California, 8.8 percent in New York and 6.8 percent in Texas.
The debate about opening schools quickly came and went here, with Sumter County leading the state in virtual learning. Unlike other states now contemplating summer school, Florida children have been in classrooms since last fall.
Florida's approach infuriated many people. For instance, when DeSantis did not close beaches, there was national outrage — though the decision seems obvious now in retrospect, given how much safer people are outside.
DeSantis made it a priority to protect the state's many older residents, banning visitors in nursing homes until October and leading the only state to move seniors to the front of the vaccine line.
As for The Villages, the nation's largest retirement community earned praise from DeSantis and former President Donald Trump for partnering with UF Health to bring one of the nation's first large-scale testing sites here.
The results of the community's response were surprising: one of the state's lowest rates in one of its most vulnerable populations.
 "We forget how much we didn't know back then," said Dr. Michael Lauzardo, deputy director of UF's Emerging Pathogens Institute. "Access wasn't around back then, and getting access to testing was almost impossible. It gave us a very good surveillance look at the population at that time. It was very valuable. It showed that UF Health was engaging with the community it serves by getting tests that weren't available to other people."
Local Efforts Help Businesses Stay Afloat
Florida's tourism-dependent economy is showing signs of a rebound, too. Florida had 86.7 million visitors in 2020, down from 131.4 million the year before.
But March 12, 2021, saw the highest number of air travelers at 1,357,111 since mid-March of 2020, according to the Transportation Security Administration.
To help small businesses protect their employees' jobs during the economic uncertainty last spring, Citizens First Bank and The Villages Commercial Property Management Division helped commercial customers apply for part of the $349 billion provided through the Coronavirus Aid, Relief & Economic Security Act's Paycheck Protection Program through the U.S. Small Business Administration.
"Local businesses are the fabric of our community, and helping them maintain their financial strength is very important to us," said Lindsey Blaise, the bank's president and CEO.
The bank helped 910 small businesses obtain $105 million in stimulus loans during Phase I and II of the PPP.
By July, around $109 million in loans secured by 1,072 employers through Citizens First Bank had protected the jobs of 10,637 workers in The Villages.
"The impact is we kept those workers employed, which enabled them to buy groceries, take care of their children and know they would have a job when their employers reopened," said Brad Weber, the bank's executive vice president and chief lending officer.
Christine Chaloupka feared what could happen to small businesses amid shutdowns and people choosing to stay home.
"Since we were allowed to reopen, I have seen such a renewed strength and love for shopping local," said Chaloupka, owner of Lime Light/Christine's in Lake Sumter Landing. "My customers have seen an outpouring of love and support — verbally and through their actions by coming into the store and making a purchase."
Chaloupka, who merged her two stores Lime Light Boutique and Christine's in September to be Lime Light/Christine's, provided "virtual shopping" during the pandemic so customers could get what they needed in a safe way. She had customers on the phone or video chatting with her while she shopped for their items.   
Restaurants and retailers pulled out the creativity and evolved with the rules as rapidly as they could, said Frank Calascione, Sumter County's economic development director.
"In restaurants, we saw more table spacing, disposable items substituted for permanent ones, enhanced sanitization methods, expansion of outdoor dining, etc.," he said. "These measures allowed the business to continue to operate. Retail likewise adapted pretty quickly, websites got better, buy online and pick up at the store expanded, contactless pick-up, etc. came into play pretty quickly."
Restaurateur Fred Karimipour leapt into action when restrictions prohibited on-premise food-and-alcohol consumption at Florida restaurants. His company, FMK Restaurant Group, provided an online takeout delivery service so customers could continue to enjoy the food at his establishments.
Karimipour, the company's president and CEO, which owns and manages Bluefin Grill & Bar at Brownwood; the Chop House steak and seafood restaurant at Lake Sumter Landing; the Belle Glade, Bonifay, Evans Prairie and Orange Blossom country club restaurants; and Scooples Ice Cream Parlor & Restaurant at Brownwood, supported his employees however he could.
"My business partner and I made a commitment early on that we were going to keep as many people on payroll as possible," he said last spring. "We kept the entire management team on payroll and a good number of hourly employees. We also kept our hourly workers engaged, kept constant contact with them and even did fundraising for them."
Experts Urge Residents To Maintain Vigilance
The virus has claimed more than 500,000 Americans' lives, and the long-term health effects on survivors — especially those "long-haulers" who experience severe symptoms for months — remain unknown.
Claudia Dickson, of the Village of Pine Ridge, has experienced both types of loss.
The avid walker and dragon boater had to use an inhaler for weeks after recovering from COVID-19. Her husband, Jay, died from the virus last fall after a five-day hospitalization.
 "The day before he died, they called to tell me he had taken a turn for the worse," she said. "I begged and begged them to let me come in and they said, 'OK.' I was lucky I was in there, or he would've died alone."
Still sick herself, she suddenly became a widow while having to isolate from the rest of the world.
She read through his texts and found he reached out to people he hadn't spoken to in years, knowing he wouldn't survive, she said.
"We were married 37 years and together 41," she said. "It's a long time. Not long enough, but a long time."
On his deathbed, Jay told her he was sad he'd never get to meet his grandkids.
Five months after recovering, Claudia is working back up to walking 4 miles daily and is back on the water with the Dragon Sisters, though she still has trouble breathing at times.
A reminder of the life she had with Jay is never far, as she wears some of his ashes in a heart-shaped necklace. When it's safe to do so, she plans to spread the rest of his ashes in Hawaii, a place they always wanted to visit together.
While vaccines become more available to spare others from living Dickson's grief, medical experts caution that it's still too soon to become complacent.
"I like to say to tell people we are not powerless against this virus," said Dr. Nicole Iovine, chief epidemiology officer at UF Health Shands Hospital. "We have power. We can wear masks and we can avoid crowds. We don't have to sit back and wait for this virus to defeat us."
Getting people vaccinated is the biggest area of focus now, said Dr. Jeremy Spry, emergency physician and medical director of the emergency department at UF Health The Villages Hospital.
Lauzardo agreed.
"This is good news and a good tool on our path back to normal," he said.
Specialty Editor Mackenzie Raetz can be reached at 352-753-1119, ext. 5354, or mackenzie.raetz@thevillagesmedia.com.