While the 2020-21 school year began with a murky path, The Villages Charter School aimed to make it a year of choices. There were three options that students had this year for learning, according to Merideth Brock, school counselor at The Villages High School. Starting their senior year in the middle of the COVID-19 pandemic, this year's graduates talked through a tough decision with their families and each other to determine the best option for them, Brock said. Even outside the learning experience itself, students were faced with difficult decisions about how involved they could be in school in a way many had never had to consider previously. Whether it was participating on the same sports teams they'd been a part of for the last three years or attending school events like this year's May 21 senior walk as a grand finale for high school — an event which was canceled for students last year due to the beginning of the pandemic — every decision needed to be carefully weighed for most of the year.
Now, with more and more of the population getting vaccinated, the school is planning to have the most normal graduation ceremony possible.
Senior Caleb Brock, 18, said now the year is over, he's excited to be able to have a maskless graduation — something many students didn't know would be possible this year — and to "finally get together as a group and see everybody's faces as a last hurrah."
Earning Students' Gratitude
Some students chose to return for in-person instruction at the beginning of the year.
Others selected one of two online learning options. Some became Buffalo eLearners and studied from home during a regularly scheduled day with full class periods. The rest took part in a less-structured version of online schooling, which allowed them to do assignments at their own pace and on their own time frames.
Many students also ended up participating in at least two of these models throughout the year. Sometimes on-campus students had to quarantine for one reason or another. Some online students decided online school wasn't working out and chose to return to in-person learning.
Whatever decisions students and their families made, Brock said she has never seen a group of seniors more appreciative of what their school has done for them.
One contributing factor students had to consider for the final year of their high school careers was possibly missing out on the big milestones that traditionally accompany the closing of this chapter.
Christina Murphy, activities director at VHS, said students this year really knew "how lucky they are."
"I got a lot of comments about how happy they were, how appreciative they were that they were able to have a full senior experience," Murphy said.
For a while, it was uncertain if this experience would include activities like a final homecoming week, which ended up being delayed months from its traditional fall date to the beginning of March instead.
Seniors hoped to be able to have a graduation ceremony that didn't limit the number of attendees they could invite, and they wanted to have one last hurrah with each other at prom.
While these events may have seemed like a given at the start of their freshman year, they were more of a dream the seniors could only wish for by the time it was their final year. It made everything that much more special for them when they were able to have modified versions of these events.
"They were very happy about how their year turned out," Murphy said.
Choosing Safety
Senior Jordynn Lansford, 19, was one of the students who didn't see her friends for more than a year.
After being sent home for spring break last year, students at The Villages Charter School finished the 2019-20 school year learning remotely. At the beginning of this school year, Jordynn and her family decided to keep her in the online schooling format out of concern for at-risk family members — including Jordynn herself.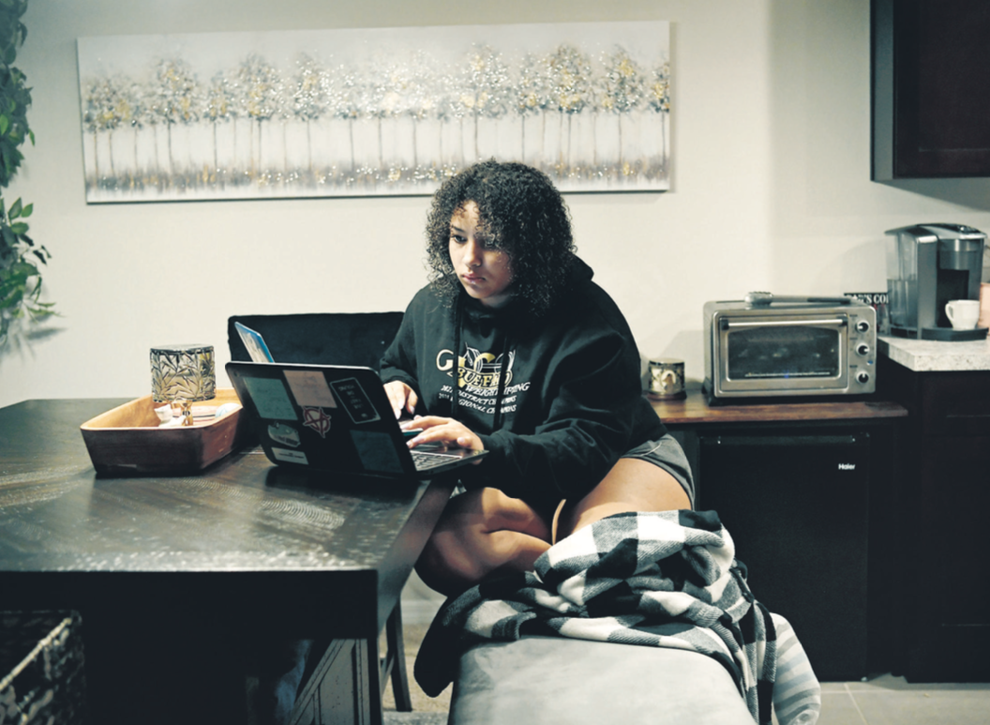 "I'm diabetic, so my immune system itself is weak," she said. "If I were to get COVID, I would most likely die."
This concern plagued Jordynn and her family, most of whom also have weak immune systems, Jordynn said. As a result, they made the decision together to not have her return for in-person instruction this year.
The hardest part of the year for her was not being able to see her friends every day.
"I have a few friends I was really close with the past four years," she said. "Once COVID hit and we realized it wasn't going to end any time soon, we realized we weren't going to be able to see each other every day and joke around at lunch like we had been the last few years."
Even while some students continued to meet each other outside of the school day, Jordynn was unable to be flexible in her quarantine out of concern for her own and her family's health.
A Moment She Didn't Want to Leave
Prom night on April 3 was the first time she saw her friends since spring of 2020. After vaccination became a possibility for her and her family, Jordynn decided she would be able to attend one of these milestone end-of-year events, which also ended up being her first school outing since early 2020.
"Because I'm a senior, I thought this is my last year, let me just go to prom," she said. "I didn't do homecoming or grad bash because I felt like I had to pick between them as a compromise before I had my first shot, and I chose prom."
"I have a few friends I was really close with the past four years. Once COVID hit and we realized it wasn't going to end any time soon, we realized we weren't going to be able to see each other every day and joke around at lunch like we had been the last few years." — Jordynn Lansford, VHS student who completed her senior year online
The night was what Jordynn described as "a euphoric situation."
"When we were in the moment of prom, we were dancing and having fun. I didn't want it to end. I didn't want to leave this moment," Jordynn said. "When I looked around, it was just a whole bunch of my classmates that I'd been with, and we were just having fun. Nobody was concerned about COVID — we had our masks on, but nobody was concerned about COVID. We were just being kids again."
Hopes for Graduation
Jordynn said her biggest hope for graduation is that she will be able to shake hands with the administrators and teachers who have helped mold her, as long as she's allowed to do so.
This year was a challenging one academically for Jordynn as well as socially.
"Probably one of the biggest challenges was trying to keep my grades up and not miss classes and assignments," she said. "My guidance counselor (Brock) is really, really awesome. She's a complete rock star. She reaches out to me all the time and lets me know how good I'm doing and lets me know if I need help, to email her or tell her, ask her for help so I can have her to fall back on."
Walking across the stage at graduation is something Jordynn has been looking forward to for a long time.
"For me, it's been kind of rough," Jordynn said of her school experience. "I bounced from school to school growing up. I've been in the system for like 13 years, so for me it's like all this work and determination moving forward for 13 years makes sense to get it done and make a future for myself."
Jordynn plans to go to Lake Technical College in Leesburg for cosmetology so she can pick up where Mom is leaving off in her business as a stylist.
The Highs of High School
Caleb Brock also is ready to graduate today.
He made the decision to return to in-person school at the beginning of the year.
"I felt the risk of COVID was not worth losing a great portion of my education," he said. "I'm a really big people person, and I felt like if I were to stay home, it really would have affected my mental health."
Caleb, who is Merideth Brock's, said he essentially made a pro-and-con list, and the negative aspects of learning in an online format far outweighed the risks he viewed in coming back to school during the pandemic.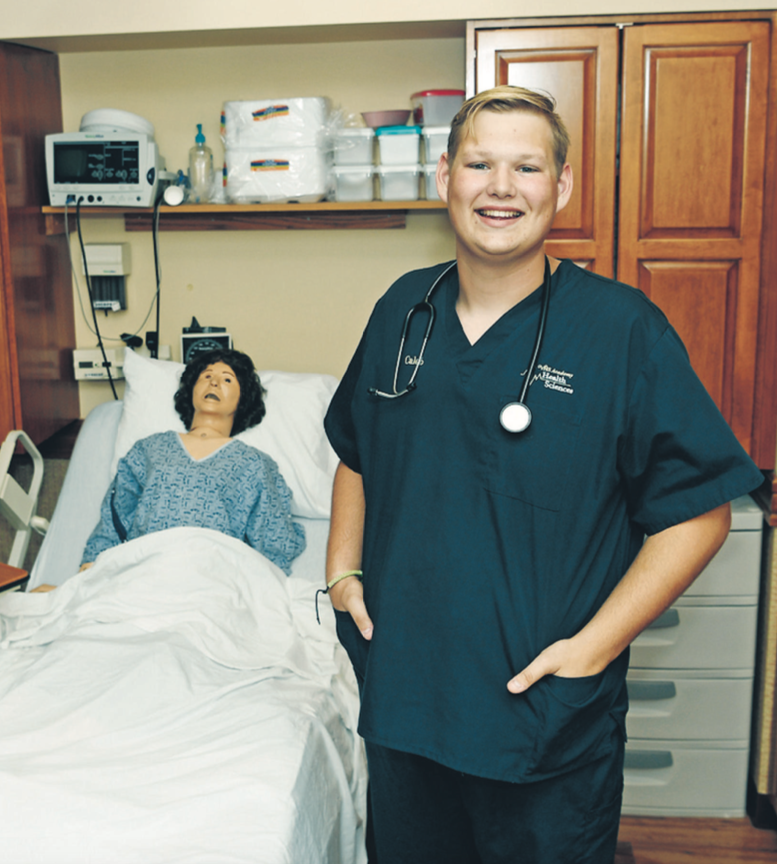 "At first, I was a little hesitant because everyone still didn't really know exactly what was going on," he said. "We had stayed home for so long, it was kind of a shock to go back. But after we went back, it felt like we should have been back the entire time."
Caleb said he always felt safe during the school year because of the regulations and adjustments the charter school made. He said he was thankful to have had opportunities this year that many students at other schools did not.
"A lot of schools weren't able to do the activities we were able to do," he said. "The fact that (Murphy) was able to pull together a homecoming, a prom and a grad bash all within a month was great. It was a gift to us after having to deal with what happened last year."
Low Points in a Pandemic
This year certainly wasn't the easiest for Caleb or his family, though.
Caleb and other family members contracted COVID-19 at different points in the school year, he said. During that time, he needed to go to the online format while he quarantined for two weeks at a time on two separate occasions.
"Something that, when I was online, I noticed it was very difficult for the teachers to bounce from classrooms to online," he said. "I felt that, in the classroom, there wasn't as much difference. But for online students, that's where I felt like (this year) lacked."
After returning from quarantine, Caleb said he was validated in his decision to stick with in-person classes and was happy to return to the campus.
Another difficult part of the year for Caleb was seeing the basketball season cut short. As the team's manager for four years, making it to the district championship game and having to forfeit the tournament because someone tested positive was "really hard."
Grateful for a Good Year
Even with the ups and downs of this final year, Caleb said he believed it ended on the best note it could have.
Sports teams were still able to have their seasons, and milestone events went on.
"I'm really grateful for our teachers and administrators and staff, especially our guidance counselors," Caleb said. "They have had to struggle with students who are online. It's been very difficult for them. I give props to them for pulling teeth with some of these kids. I understand, because I was online and really wanted to get pretty lazy at some points."
"At first, I was a little hesitant because everyone still didn't really know exactly what was going on. We had stayed home for so long, it was kind of a shock to go back. But after we went back, it felt like we should have been back the entire time." — Caleb Brock, VHS senior
Caleb said high school has been a communal experience for him, and while it was a strange year to end that experience on, he wouldn't have changed his choice at the beginning of the year for anything.
"Doing those last final activities really culminated what I felt in high school: a sense of community," he said.
Seniors Celebrate Making It Through
The activities, like prom and Grad Bash Nite at Busch Gardens in Tampa Bay, were some of the major points of joy that helped seniors get through the year, Merideth Brock said.
"The social aspect has been different even in the building, but I think the students have done well," she said. "I'm so proud of how they've managed and how they've gotten through the year. They've adapted. They really have adapted well."
Brock said the perseverance of students and staff have shown this year has been nothing short of inspiring.
"I've never heard so many kids be so appreciative of being allowed to have an event and have at least some of the traditions that seniors have always had here," she said. "You could just really see it lifted their spirits and gave them the energy to get through the rest of the year. You could tell how good it was for them to all be together."
Students in the class of 2021 will be all together one final time from 9 to 11 a.m. today at The H.G. Morse Range for their graduation ceremony.
For more information about graduation, visit tvcs.org or call 352-259-3777.
Associate Managing Editor Alexandria Mansfield can be reached at 352-753-1119, ext. 5401, or alexandria.mansfield@thevillagesmedia.com.