A little more than 20,000 thoroughbreds are born in North America each year, according to figures from The Jockey Club, which registers every horse that's a candidate to enter the starting gate somewhere. Some are held back by illness or injury or other misfortune. Others lag at various levels along the journey. Just 20 — about one in 1,000 — reach the sport's grandest stage, the Kentucky Derby on the first Saturday of May. It's a once-in-a-lifetime prospect, restricted to 3-year-olds.  And only one gets to cross the finish line first. This year, the one who crossed first was born just 45 minutes north of The Villages. "He's not blue-blooded. He's a horse with heart," said Gail Rice, the breeder whose small enterprise foaled Medina Spirit and parted with him as a yearling.
Alas, the Cinderella story has taken a messy turn, as Medina Spirit tested positive for trace amounts of a steroid that may have entered his system inadvertently via a topical cream for skin rash. The swirl followed him to last weekend's Preakness, where he placed third after running up front most of the way.
The local connection, though, extends far deeper than one horse.
Of the 20 colts entered in this year's Derby, 15 spent part of their young lives in Marion County to be raised, broken, trained, sold or simply spend a bit of winter R&R.
"They all come through here," said David O'Farrell, who oversees the Ocala Stud operation established by his grandfather 65 years ago. "A lot of really good horses come through Ocala."
Royals to Soup
Essential Quality, the betting favorite owned by Dubai's royal family, is one of three entrants who got his early training at Niall Brennan's stables. Known Agenda, the Florida Derby winner, got his start at Eddie Woods Stables. Soup and Sandwich, who ran up front with Medina Spirit for much of the race, was bred at Live Oak Stud and trained by Ocala's Mark Casse.
It's not an anomaly. In 2017, 17 of the Derby's 20 starters launched their training in Marion County. Most years, it's at least half.
"A lot of people have no idea," said Casse, who arrived in Ocala at age 5 and never left even as his career led to the National Museum of Racing and Hall of Fame.
Drive north on U.S. Highway 301 just north of The Villages, and you'll spot a sign heralding the winter home of Swiss Skydiver, who last fall became just the second filly since the 1920s to win the Preakness. Trainer Kenny McPeek's Summerfield Training Center is less than 10 minutes from Mulberry Grove Regional Recreation Complex.
Tiz the Law made it two connections to last year's Triple Crown race winners, a graduate of Ocala's New Episode Training Center. Each year, an estimated 15,000 thoroughbreds come to Florida for schooling.
"I'd say 98 percent of the people who break and train horses and sell them as 2-year-olds — this is where they are," said Barbara Vanlangendonck, who with husband Francis have made Summerfield Sales a Marion County mainstay for three decades.
"That's where you get the connections with the Derby and the Breeders' Cup."
Big business
Horses are a $2.5 billion industry in Marion County, according to the Florida Thoroughbred Breeders' and Owners' Association. The majority of that impact is tied to thoroughbreds, though other breeds are making inroads.
Marion County is home to some 750 thoroughbred operations, running the gamut from sizable farms like Ocala Stud or Live Oak to small breeders such as Rice.
"A majority of our industry is small breeders — five horses or less, five acres or less," said Tammy Gantt, associate vice president at the FTBOA.
The county also is home to Ocala Breeders' Sales Company, which pioneered the concept of selling 2-year-olds in training — thoroughbreds on the doorstep of launching their racing careers. Unlike yearlings, 2-year-olds can be timed and observed in full gallop.
"You can find the cream of the crop here," said Gary Contessa, a New York trainer who has been attending the sales for 35 years.
Said OBS president Tom Ventura: "It puts some added value in the horse. Here's what it looks like standing still, here's who his mother and father are and what they did. And now here's how it moves."
Last month's sale was a full house, with more than 1,200 horses registered. Next month will see more than 800 go through the ring. In all, OBS hosts five sales a year, generating close to $150 million annually.
Buyers have come from every state but Alaska, as well as 43 countries. Over the past decade, the OBS cash register has rung up more than $1 billion in thoroughbred sales.  
"There's a lot of money that comes into the community and it doesn't all flow out," Ventura said. "It keeps people employed."
And sometimes OBS is the conduit for a Kentucky Derby winner. Medina Spirit was sold twice, first as a yearling and then as a 2-year-old. Ditto for Silver Charm, another Florida-bred who won the 1997 Derby and Preakness.
'Horse Capital'
Ocala/Marion County bills itself as the "Horse Capital of the World," a moniker it trademarked in 2002 after a national horse council survey revealed there were more horses and ponies in the county than any other in the United States.
Though many stud operations have gravitated north to Kentucky — rightly the thoroughbred capital of the world — Florida still rivals California for the No. 2 spot each year. And that doesn't factor in the other breeds.
"You see more breeds here than almost anyplace in the United States," Gantt said. "It's the number of horses, the economic impact, the wealth of practitioners here, the cutting-edge veterinary technology.
"You don't necessarily see that when you see the horse in the pasture. What you see is a very pretty horse."
And there's plenty of that. Even as Ocala's equine commerce has sprouted — it's less than two miles from Paddock Mall to Ocala Stud, not much farther to Casse's barns — folks with a little local wisdom know where to drive.
"People are surprised at how many beautiful farms," Rice said. "(County Road) 225, 225A. They call it Millionaire's Row. There's a couple of really beautiful farms on 320, and a road just south of 320."
Ocala's newest addition is anything but tucked away. It's the World Equestrian Center — a 300-acre campus to showcase those other breeds, with four indoor arenas, an outdoor grand arena and a 7,000-seat stadium. And room to grow.
"I think the World Equestrian Center can do (for Ocala) what Needles did in 1956," Gantt said.
A feisty trailblazer
Needles captured the 1956 Kentucky Derby as well as the Belmont Stakes, shining a spotlight on Florida's budding thoroughbred possibilities.
It wasn't an easy path for the bay colt, who came down with equine pneumonia at five weeks and spent weeks struggling with a fever. He survived with the help of several injections, which became the basis for his name. All those injections also may have given Needles an acute distrust of humans, with a definite cantankerous side. He often refused to run in morning workouts. One photo in the FTBOA offices shows him bucking on the Derby track.
When it counted, though, Needles came from well off the pace to win by three-fourths of a length.
"Everybody came to see, 'Who is this little horse from Florida?'" said Gantt.
At the time, you could count the thoroughbred farms in Marion County on one hand. Two years later, the number had grown to 26. Within a decade, it was in the hundreds.
What they found was prime land for horses — spring-fed aquifers and grasses rich with limestone, helping fortify bones asked to support 1,000 pounds at a gallop. And, of course, the mild winters.
One historical account said Needles, "sold more land than all the real estate agents in Marion County."
Continuing legacy
Five years after Needles' breakthrough came Carry Back, an Ocala Stud product who won the Kentucky Derby and Preakness. Tartan Farms had Dr. Fager, a sprinter who in 1968 recorded the fastest mile ever on dirt — a 1:32 1/5 clocking that still stands.
When Dr. Fager returned home, the Marion County Sheriff's Office gave him a ceremonial speeding ticket.
In all, Florida-breds have captured seven Kentucky Derbys, seven Preakness Stakes, six Belmont Stakes and 28 Breeders' Cup races. Six were named Horse of the Year. And one captured the most elusive prize of all — the Triple Crown.
Affirmed, with teenage jockey Steve Cauthen aboard, swept the series in 1978 in an epic rivalry with Alydar. The duo finished 1-2 in all three races, each closer than the last. They were neck-and-neck down the stretch at the Belmont Stakes, until Affirmed got his head in front just before the wire.
It would be 37 years before another Triple Crown winner came along. And though American Pharoah doesn't classify as a Florida -bred, the 2015 champion has historical Florida bloodlines and was schooled in Ocala.
"Those really good horses are like rare diamonds," said O'Farrell. "They don't come along often and when they do come along, you really have to enjoy it."
Ocala's own
The Ocala Horse Complex, where Casse's operation is located, is almost like a Monopoly board. A road travels around in a square, with farms on both sides — Hemingway, Wildflower, Olive Acres, Great Luck, Under the Oaks.
Casse Racing occupies one side of the board these days, having grown to 180 acres from his original 10-acre purchase.
"That was 25 years ago and we keep adding," said Casse. "Ocala's known because of our weather as a place where a lot of big horses get ready, but I think I'm the only one that actually owns a place here."
Casse's father, Norman, brought the family to Florida to establish Cardinal Hill Farm and was part of the group that founded OBS. Mark was general manager at Harry Mangurian's Mockingbird Farm before setting out on his own.
His portfolio features victories at the Preakness and Belmont Stakes, both in 2019, along with five Breeders' Cup wins. Perhaps his best horse was Tepin, a filly who won the Breeders' Cup Mile and notched victories in three different countries, including England's prestigious Queen Anne Stakes.
Most major trainers keep their base at one of the top racetracks, but Casse has made it work. He can accommodate as many as 125 horses on site; he installed his own training track several years ago.
Helium, one of his two Derby entries this year, spent the winter on property after coming down from Canada. Soup and Sandwich is not far away at Live Oak Plantation.
"I feel like I'm about as big an Ocala boy as there is out there," said Casse, who also keeps a place on Lake Weir to indulge his fishing habit. "Ocala's been my entire life, and I'm sure it will be until I join my dad."
Changing landscape
Ocala Stud is something of a throwback in that it remains a full-service farm. Fifteen stallions stand at stud, including top stakes winners Noble Bird, Girvin, Seeking the Soul and Win Win Win. Last year, Ocala Stud's roster sired about one-third of the entire Florida market.
There's also a broodmare farm down the road from the main farm. There's a training track where young colts and fillies learn the ins and outs of becoming a racehorse, including exposure to the starting gate.
"To know you had a hand in developing that horse from start to finish is really rewarding," said O'Farrell.
As with other training tracks, too, Ocala Stud welcomes horses from elsewhere. Todd Pletcher, perhaps the No. 2 trainer in the sport today behind Bob Baffert, sometimes drops by to check on some of those soon to be in his care.
It's a well-stocked operation, yet O'Farrell recalls when others cast a larger shadow.
"When I was a kid, there were big horse farms here," he said.
Scaling back
The names still recall a Horse Capital golden age for Marion County.
There was Tartan Farms, established by William L. McKnight of the 3M fortune. When none of his offspring showed interest in running the operation, he sold to Mangurian, the real estate titan who later owned the Boston Celtics.
Bonnie Heath Farm, founded by Oklahoma oil money, hit the heights behind the aforementioned Needles. Kinsman Stable belonged to George Steinbrenner, who named it after the street where his German ancestors settled in Cleveland.  
"There were significant stallions down here," recalled Vanlangendonck, who arrived in 1986 after marrying Francis.
Over time, though, many breeders began to consolidate their stallion roster in Kentucky. "They began standing more $10,000 and $15,000 stallions, which would be our bread and butter here in Florida," Vanlangendonck said.
Two other factors also entered the picture — development and changes to tax laws.
Rules were tightened in the 1980s as to what large farms could write off. The change prompted many owners to evaluate what they wanted from their operation. Breed to sell? Breed to stay in racing?
Some farms opted for smaller, more focused operations, sometimes selling to developers and buying new farms on Ocala's outskirts. It also created an opening for more small breeders to make a go of it.
"The cost to put a racehorse in training here is less than anywhere else in the United States," Gantt said.
Pinhooking
Shifting dynamics also has given rise to the trade of "pinhooking" — raising a weanling to sell as a yearling, or taking on a yearling to sell as a 2-year-old in training.
"Everyone along the way works with the horse in what they specialize in," said Gantt.
In human terms, think of it along the lines of a teenage athlete going to a travel team, then turning him over to a college coach with an eye on the pros.
Summerfield Sales annually ranks as Florida's No. 1 sales agency for yearlings, consistently among the top 15 in the nation. Sales in 2019 produced a cumulative price tag of $9.3 million.
Foals are bought in November or January, with an eye on selling them the following August or September. In addition, they'll work with small breeders to prepare their youngsters for sale.
"We have people who have an acre of land, live in a tiny house and have a mare in the back," said Barbara Vanlangendonck. "We love that. We can go in there and make somebody a bunch of money."
Summerfield used to consign 2-year-olds, too, but it got to be too much. And in the age of specialization, there's a stigma if you try to double-dip.
"People think if you sell 2-year-olds and decide to sell a horse as a yearling, you must think he's no good," said Andrew Vanlangendonck, one of two sons who have joined the business.
Building blocks
Raising a foal for sale as a yearling focuses mostly on three areas — getting them fit, independent from their mother and adjusted to human handlers.
"They're going to be passed from human to human," said Andrew Vanlangendonck. "I come in and touch their head, their ears, their stomach, down their legs, pick up their feet."
The routine is also valuable, he added, to spot any health issues.
"We give them a thorough hands-on approach," said Arthur Vanlangendonck, Andrew's older brother. "Our goal is to (produce) one of the best-looking horses in the sale or on the racetrack."
As far as race training, though, that's left to the next stage.
It's a gradual process on the training track as well. Typically a horse will just jog for the first few days. Then they'll gallop a quarter-mile. A week later, they'll go three-eighths. Then a half mile.
"The trick is getting horses to do more without them even knowing it," said O'Farrell.
They also get introduced to the tight confines of the starting gate, as well as various running conditions.
"You'll see a couple of groups that gallop in a tight set," O'Farrell said. "They're going to have dirt kicked in their face; they'd better learn to deal with it. They're going to be down on the inside behind horses.
"You put them on the lead. They've got to learn to be out there all by themselves."
Combine for horses
The goal is to peak for the sale. Or more specifically, the time trials.
Officially known as the "Under Tack Show," the process — which is open to the public — serves as the equine version of the NFL Combine. Every horse on the register takes to the OBS track and is timed while breezing an eighth of a mile, a quarter mile or three-eighths.
"If you had fast horses, it was obvious," said Frank Mitchell, a former Daily Racing Form columnist and now a partner in the analytics firm DataTrack International.
"It made the horses here in Florida look that much brighter and shinier. You could come down here and see horses that were athletic and forward in their training."
For the April show, running the entire lineup takes a week. There's also time in the afternoon for scouts and potential buyers to look at horses in the barn, checking for flaws in physical makeup, or getting medical exams.
"It's like any other athlete," said Steve Young, a bloodstock agent based in New York. "The way a horse moves and the way he handles stress is equally as important as his pedigree."
Though times are primary, scouts also are looking for some sort of X-factor.
"I like to see a face that's very determined; a horse that likes what he's doing," said Contessa.
In the ring
Agents and potential buyers have to know their game plan and act fast.
A horse enters to the left of the auctioneer's stand, introduced only by a number on his hip. (By and large, horses aren't named until they're in the hands of their race owners.) A video plays of his breeze session and bidding begins.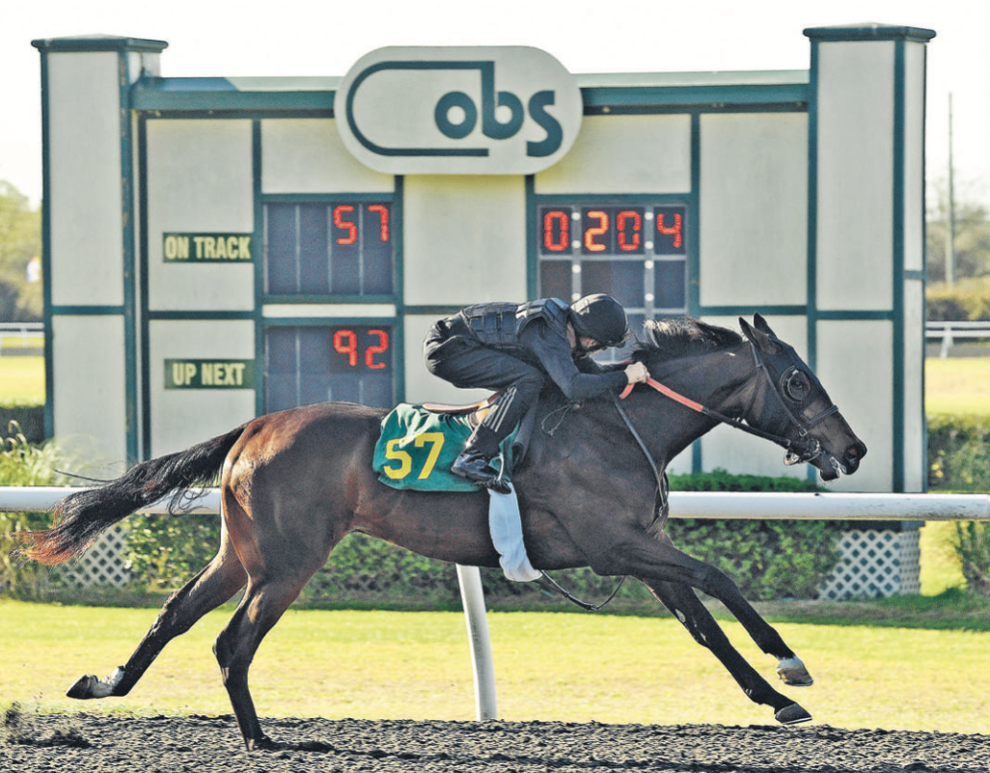 An overhead tote board rolls the numbers, some faster than others. The auctioneer declares sold. The horse exits out the other side.
Whether they sell for $35,000 or $1.35 million, the entire process wraps up in little more than two minutes.
"Most of the time you can't tell who's bidding," said Ventura. "It's theatrical because you have the bid spotters yipping, but it may be just a nod of the head, a flip of a finger."
Or a word over the phone to a bid monitor on site. Or, in the wake of last year's pandemic, a click of a mouse.
As the year's two largest sales were pushed into the summer, OBS pushed its unhurried online plans into overdrive. They contracted with Xcira Inc., a Tampa firm that previously had taken some automotive and heavy equipment auctions online.
Early tracking shows about 25 percent of all horses have had at least one online suitor. At last month's sale, a Japanese buyer purchased a million-dollar horse with a click.
Inexact science
Of course, there are no warranties in this game. Sometimes the million-dollar horse has unforeseen injury issues; sometimes he's just an underachiever.
On the flip side are the blue-collar overachievers. Of the four Kentucky Derby winners that were sold at OBS, three went for $35,000 or less.  
Lil E. Tee (1982 Derby) brought a winning $25,000 bid. I'll Have Another (2012) sold for $35,000, also winning the Preakness before injury forced him to be scratched from the Belmont.
Medina Spirit's backstory shows both sides of the coin. At last year's rescheduled June sale, Amr Zedan bought the sale topper — a filly named Princess Noor who had the fastest breeze of the sale and went for $1.35 million.
One month later, a friend of Zedan's who owned Medina Spirit's sire gave him a call to endorse the near-black colt, now under consigner Christy Whitman's care after being purchased from Rice as a yearling. The $35,000 price tag was a relative pittance.
Princess Noor won her first three starts, including Grade 1 Del Mar Debutante, but soon was retired from racing with a soft-tissue injury. Medina Spirit — well, you know the rest.
"It'd be really nice if it helps our middle market," said Rice, now pointing to the June sale for a 2-year-old colt she calls Disruptive.
"There's your high end, then the low end where they sell for $1,000. But that middle range — $20,000 to $70,000 — people should be more willing to buy those. Why wouldn't you buy three $50,000 horses instead of a $150,000 horse?"
The new crop
The cycle, meantime, never stops. The Belmont Stakes looms two weekends away; the June OBS trials will already be running.
The foaling season nears its conclusion, taking a deep breath before preparing yearlings for those fall sales.
"We had a client one time," Barbara Vanlangendonck said, "he was driving through the farm and there's foals sleeping. He says, 'Look at 'em. They're just growing.'"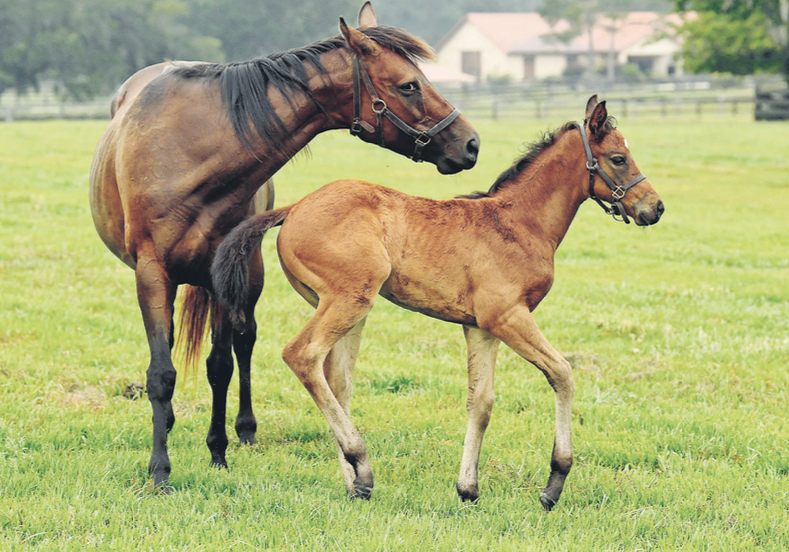 It's also O'Farrell's favorite time of the year. He points to a filly just four days out of the womb, whose half-sister R Adios Jersey won her first four starts, including a stakes race at Tampa Bay Downs.
"She's got a big chance," said O'Farrell, who like most everyone keeps tabs on his horses long after they've been handed off. "Good size, good bones, legs are correct, alert, healthy. Just a really nice foal."
Not far away, a 5-day-old colt out of Empress of Gold has taken an interest in his human visitor, kicking up his heels to put on a little show.
O'Farrell laughed.
"He might be the next Derby winner," he said. "Every year when the new crop's born, it's the future. It's the future of your business; it's the future of your farm. And there's hope in every single one of them."
Hope to dream
At Ocala Stud's training track, a small sign dangles from an observation rail that reads "Dreamer's Point." It's a gift from Hall of Fame trainer Carl Nafzger, who was standing there in 1990 when he caught a vision of Unbridled winning the Kentucky Derby.
The locale's name, O'Farrell said, actually goes farther back to a longtime client who would watch his horses while standing at the same spot.
"You don't know which one might be your future champion," O'Farrell said. "None of them might be, but you've got to always dream."
For a select few, even from humble beginnings, it truly isn't all that far from Ocala's training track to the Derby starting gate.
Senior writer Jeff Shain can be reached at 352-753-1119, ext. 5283, or jeff.shain@thevillagesmedia.com.