Sixteen-year-old Giulia Manco and her brother, 15-year-old Gio, spent their childhoods in the restaurant they now work at with both their parents.
"The restaurant business is a very tricky industry," said their mother, Julie Manco. "We were kind of raising the kids and also the restaurant."
Julie and Giovanni Manco brought Giovanni's to The Villages in 2004. Less than a year later, Julie gave birth to Giulia in July 2005.
Moms in the community like Julie are the force behind hometown businesses such as Giovanni's, Custom Apparel & Gifts and others. Some started the businesses alongside family while others took over operations from previous generations, devoting their lives to both work and motherhood.
Hard Work Pays Off
Julie said starting a business consumed nearly as much attention and time as her family, and she and her husband would not be where they are now without help from others.
"Thank God for my mom, for grandparents," Julie said. "She would come over a couple of nights a week so I could work."
When her children were younger, Julie's mom would feed them dinner and get them ready for bed. They would call the restaurant to say goodnight to their mom.
Julie said the hardest time for her was when her children were toddlers and would get cranky in the early evenings, and she wasn't there.
However, having help during the first few years of establishing the business allowed her to eventually become a stay-at-home mother.
"You go through the mom guilt, of course, because you don't want to be away from your kids, but you want to be there for your business," she said. "But I knew I was doing it for (my children) and eventually we would all be able to be together and benefit from the work."
Julie felt it was important that her children see hard work firsthand.
As the children got older they spent more time at the restaurant, and now both teens work part time waiting tables and hostessing.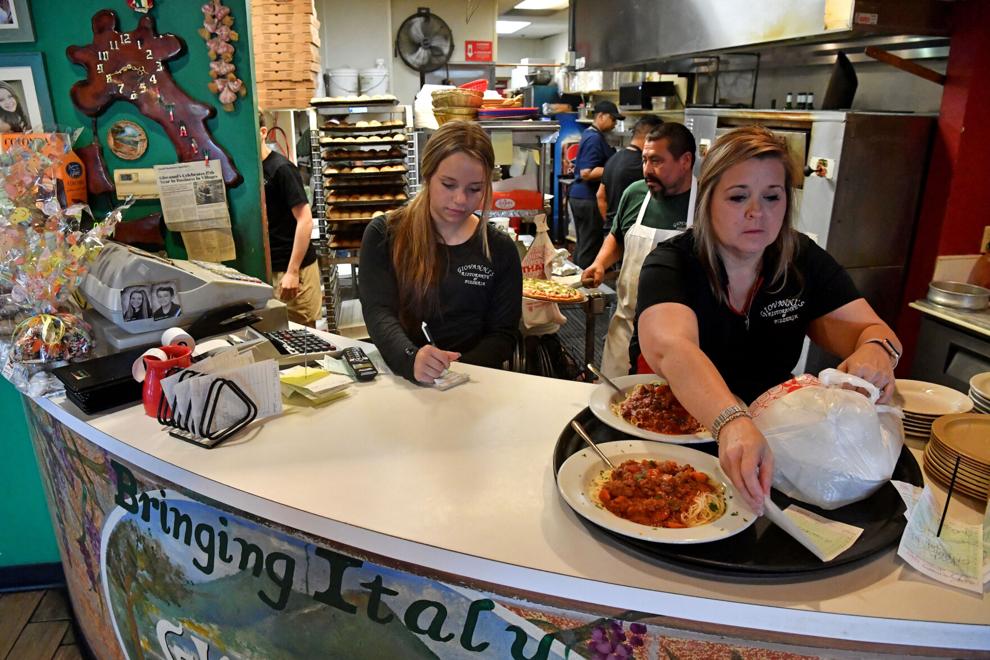 "It is rewarding, because having your own business … your children can watch you build a business and see the time and effort it takes, and it makes them hungry for it themselves," she said.
Julie said it can be challenging to take off her mom cap at work and treat her children like the rest of the employees.
"I sometimes have to remind myself not to be hard on them," she said. "As a server I'll go up and say, 'I need that credit card' to close out a tab. I need to remember (Giulia) is allowed to take her time or make mistakes like the other servers."
Giulia and Gio saw their mom and dad in the roles of both parent and boss, but the teens do not let their family ties interfere with their jobs.
"You want to expect more from them because they are your kids," Julie said. "But when they are working in the restaurant they are an employee first, and I have to give them that respect."
Passing Down Family Values
Giovanni Manco's brother and sister-in-law, Roberto and Oksana Manco, own Roberto's Ristorante & Pizzeria in Pinellas Plaza in The Villages.
Their oldest son, Alessio, 11, enjoys spending time in the restaurant. Whether he is behind the register helping with orders or sitting at a table working on homework, Alessio loves the energy of the business.
Oksana said their two other children, Anastasia and Anthony, enjoy eating at the restaurant but are too young to express interest in working.
"I sometimes am surprised Alessio likes working so much already as a young boy," Oksana said. "Ever since he was very young he liked to make pizza with the dough."
Oksana said she is proud to see her son take an interest in the family business and said it is nice to have her kids slowly spend more time at the business.
"Restaurants and food and cooking — it's so much a part of our family," Oksana said. "You also have to split your time between the restaurant and your family at home."
Oksana helps in the restaurant by taking orders, taking people food and organizing schedules.
She and Roberto show their passion for work in front of their children as an example of what it means to work hard and love your job.
"Businesses take work," she said. "Family takes work, too. The challenge is not putting one before the other and letting something suffer."
Family interactions and relationships like this are important for long-term development into adulthood, according to Ming Cui, professor of family and child sciences at Florida State University.
However, moms must balance living and working with their children knowing that overexposure to each other can lead to growing frustrations within the family dynamic.
"Family members working together for the common goal improves family solidarity," Cui said. "(But) living and working together (can) create more conflict and rivalry. Striking for work-life balance and setting boundaries — allowing space and time apart — should help improve the family dynamics."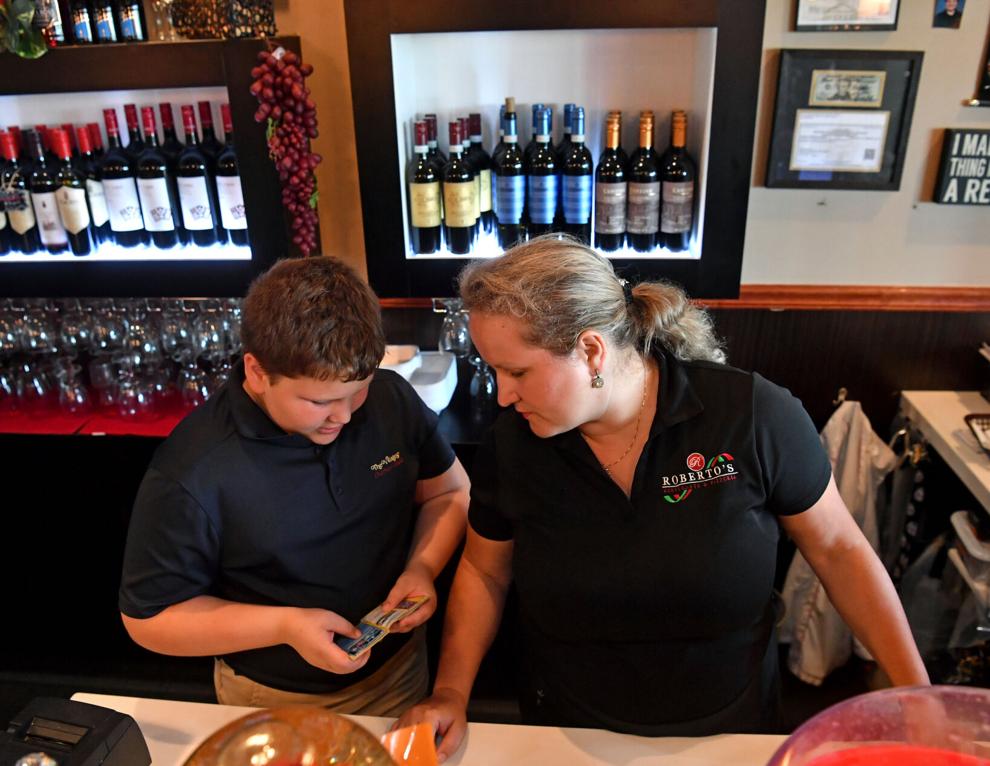 Cui said finding that balance of parental warmth and discipline has positive effects on children. Giving your child space to be young and make mistakes while still expecting them to fulfill a role as an employee is a good example of the give and take needed to have kindness and affection alongside authority.
Bringing Families Closer Together
Robin Carr, co-owner of Custom Apparel & Gifts in Southern Trace Plaza, said all her children have spent time working at the store.
Robin and her husband, Shawn Carr, have three children: April, 20, Autumn, 18, and Shawn Jr., 16.
April works full time at the store doing a little bit of everything. When she is not doing custom embroidery, she is working on shipping and receiving or helping customers.
"She's a jack of all trades," Robin said. "She's like my personal assistant in that she helps me with whatever I can't do."
Robin said she would not be able to run the store without April's help.
"When I was growing up, I knew I would eventually work at the store after school," April said. "I don't think I ever really thought about what it would be like to be here full time, especially working so close with my mom."
April said working with Robin has changed their relationship for the better.
"As you get older, it's easier to understand what makes someone stressed, and you can also relate to each other differently," April said. "She's always going to be my mom, but I can talk to her like adult friends do."
Robin said the kids always experienced some sort of retail ownership in their lives.
"We opened the (Villages) store in November 2009, and we had a little bit of practice," Robin said. "When the kids were itty bitty, (my family) had a (similar) store up North."
Before running Custom Apparel, Robin was mostly a stay-at-home mom who told herself she never would take over the family business.
However, Shawn persuaded her to be part of it.
"I wouldn't change it for the world," she said. "During summer when they had days off from school, they were here with me either helping or just playing with whatever interested them at the time."
Robin said having the kids in the store was the only way she and Shawn could envision themselves running a business.
"Having us all in, all day together, it was a dream," Robin said. "As a mom you want to provide for your kids and spend time with them to watch them grow. I got to do both. I'm still doing that."
Shawn Jr. works part time at the store when he is not working on school assignments, and Autumn works at Nothing Bundt Cakes in La Plaza Grande.
"I like to think it's been incredibly beneficial for them to grow up in the store and see (their parents) run a business," Robin said. "I knew one day they might want to venture out and be employed by other businesses, and I wanted whatever boss they got to think, 'Wow, what a great work ethic,' and know that came from being here in the family's store."
Robin always takes opportunities to teach her children about the business because she knows one day they might be running it. But if not, she and Shawn still want them to know the importance of being responsible employees.
This extra focus on family relationships can have a positive impact on a child's mental health, said William Chopik, assistant professor of social and personal psychology at Michigan State University.
"Having your mom and dad be so involved in your life as a kid is important for childhood and early adulthood development," Chopik said. "Experiencing different roles (parents) have can also impact children's lives."
Chopik said children can benefit from seeing their parents in a role beyond parent, and seeing them model positive work ethics and healthy interpersonal relationships with others can help children develop their own skills.
"There is no one right way to parent," Chopik said. "Most parents might think they are making the wrong choice, but the only thing they should worry about is whether their kids are healthy and happy."
Staff writer Maddie Cutler can be reached at 352-753-1119, ext. 5386, or maddie.cutler@thevillagesmedia.com.