When Walt Disney announced plans to build a theme park in Florida, Disney fan Rich Harinsky knew he had to go there. And he didn't wait long. He visited the Magic Kingdom in its opening week. Wandering through its six themed lands that revolve around the towering Cinderella Castle was unlike anything in any place he visited before or after it. "You ever see a kid in a candy store?" asked Harinsky, of the Village of Silver Lake, explaining his reaction to visiting Disney World for the first time. "Your eyes are wide open, trying to get everything done, trying to fit in all the rides and the exhibits in one day."
The magical place that opened Oct. 1, 1971 cast a transformational spell on Florida's tourism industry and economy, not unlike when the Fairy Godmother turned a pumpkin into a stagecoach to bring Cinderella to the ball.
Walt Disney World Resort started with the Magic Kingdom theme park and is now a tourism behemoth spanning four theme parks, two water parks, more than 30 resort hotels, a campground and an open-air shopping and dining complex.
Its debut was instrumental not only in reshaping regional, statewide and national tourism, but also in remaking Central Florida from a rural agricultural area to an economic powerhouse that remains one of the world's most visited places.
Growing Florida and Orlando Populations
From the moment Walt Disney purchased his first parcel of land in Florida — most purchased under dummy corporations to conceal his involvement, a strategy he employed to buy the land cheap — it was apparent that a transformational moment was occurring in the state.
An economic report produced for the Walt Disney Co. in 1967 suggested that for every 5,000 people employed by Disney World, Orlando's population would grow by about 10,000 residents.
Florida's growth since Disney World's debut exceeded even that early projection.
Estimates from the Florida Bureau of Economic and Business Research show Florida's population nearly tripled from 1972 to 2019. Today, it's the third most populous state in the U.S.
It grew by more than 500,000 people in 1972, Disney World's first full year in operation, according to BEBR's population estimates.
While Florida's population was growing prior to Disney World, to the tune of about 2 million to 3 million more people each decade, growth exploded once the Magic Kingdom debuted to the public, said Aubrey Jewett, a political science professor at the University of Central Florida.
"They already thought it was good for nicer weather and lower taxes," he said. "But the Disney brand made people think about Florida."
The population growth became more concentrated in the Central Florida region once Disney arrived, in part because of opportunities in the hospitality workforce, Jewett said.
Orlando's population grew by more than 165% since Disney World opened, according to the U.S. Census Bureau. Its population of 287,442 as of July 1, 2019 is almost triple its population of 99,006 in 1970.
"Disney has had a presence here in attracting tourists and it requires a huge workforce, not just Disney but other tourism-related businesses and all the support businesses required to keep Disney going, like all the restaurants and hotels," Jewett said.
A key reason why Disney World was able to attract growth in both people moving to and visiting Florida is because the East Coast is more populated and accessible than the West Coast, where Disneyland is located, said Carissa Baker, assistant professor of theme park and attractions management with the University of Central Florida's Rosen College of Hospitality Management.
"That already seems like it was set up for success," she said, "especially when you think of how popular the Disney brand was before they came to Florida."
Boosting Political Clout
With Florida's population growth, Florida commanded more seats at the table in Congress and a greater influence in presidential elections.
Florida currently has 27 seats in the U.S. House of Representatives, and will gain a 28th based on the Census Bureau's congressional apportionment counts following the 2020 Census.
That number steadily grew with the population in the decades following Disney World's debut. Florida had 15 House seats in the 1970s, but gained another four seats in the 1980s after a decade of population growth partly influenced by Disney was accounted for in the 1980 Census.
In 1968, the last presidential election before Disney World's opening, Richard Nixon received 14 electoral votes from winning Florida. In 2020, Florida commanded 29 electoral votes, which were won by Donald Trump. Whoever wins Florida in 2024 will receive 30 electoral votes.
The 2000 election literally came down to Florida, where the race for its 25 electoral votes was too close to call between George W. Bush and Al Gore. After a 36-day recount, the Supreme Court decided the election in Bush's favor.
It's "almost certain" Disney played a role in the growth in both congressional representation and electoral votes in presidential elections, Jewett said.
At least one or two Congressional seats in Central Florida could be directly influenced by the population growth that occurred in the region due to Disney, he said.
"We were growing anyway," Jewett said. "But Disney helped."
Disney World and Orlando's evolution as a theme park mecca also had the effects on theme park companies influencing legislative decisions at federal, state and local levels, Baker said.
For instance, Disney has been influential in keeping casino gambling out of Central Florida. It doesn't want competition, or the presence of the casinos to damage the region's image as a family-friendly destination.
"You have more power from these theme park corporations in making sure politicians care about the climate for leisure and theme parks," Baker said.
Building Communities Based on Theme Parks
Beyond the expanded political influence, another legacy of Disney World's effect on increasing Florida's population was how it fostered large groups of people who consider Disney and theme parks as a key aspect of their community, Baker said.
"They moved to Central Florida to be part of the culture of going to theme parks," she said. "That's not just people going to work here, but fans of Disney who actually move here to be part of the theme park culture. It really changed the idea of what community is. We used to have ideas of community based on place, or more on ideology or religion. Now we have whole communities based on Disney ... They come here to live the dream."
Some of them may be found in The Villages, a place that some think was influenced by Disney World in part because of the theming of its town squares.
When Debbie Winters moved to Florida from her native Bremerton, Washington, in 2011, being closer to Disney World was one of the main reasons she decided on The Villages.
The same year she moved here, she founded the first of The Villages' two Disney fan clubs, Mickey's "Fan"atics.
Winters, of the Village of Country Club Hills, was surprised no such club existed before she founded it. She started the club as a way to meet neighbors she could go to Disney World with.
"I thought, there has to be a club. There is a club for everything. But I couldn't find anything," she said. "When I lived in Washington, there was a Disney club, and we weren't near the parks. So I thought, why don't I see if we could start a club? I thought if we had 10 people it would be awesome."
Mickey's "Fan"atics attracted 30 people at its first meeting.
The second drew 100 people.
Today, it counts about 800 Villagers in its membership. And that doesn't even consider a waiting list of at least 200 people.
As The Villages' southward expansion kept up demand for more Disney-related social opportunities, Rich Leopold founded a second Disney club in the community, the Goofy Villagers, in 2016.
"I love the members; we have lots of fun together," said Leopold, of the Village of Collier. "We have cruises together. We have pirate nights where we all dress up as pirates. We travel to Disney together as a group."
The community building over a mutual love of Disney is apparent in the fan clubs' traditions. Mickey's "Fan"atics opens its meetings with members singing the theme song from "The Mickey Mouse Club," while Goofy Villagers' members start meetings by singing "Zip-A-Dee-Doo-Dah."
Both clubs have hosted animators involved in Disney movies and artists, and entertainers involved with the theme parks among their special guests. Mickey's "Fan"atics recently hosted a performance from Disney entertainer YeHaa Bob Jackson, who also performed in the past for the Goofy Villagers.
And of course, both clubs' members frequently visit Disney World.
Fostering a Growing Hospitality Industry
The magic doesn't come easily. It requires a workforce of thousands, which Disney World refers to not as workers or employees, but as cast members.
And the theme park resort's arrival ushered in a number of jobs in tourism and hospitality in Central Florida, with each job aimed at making the experience of visiting Florida memorable for visitors.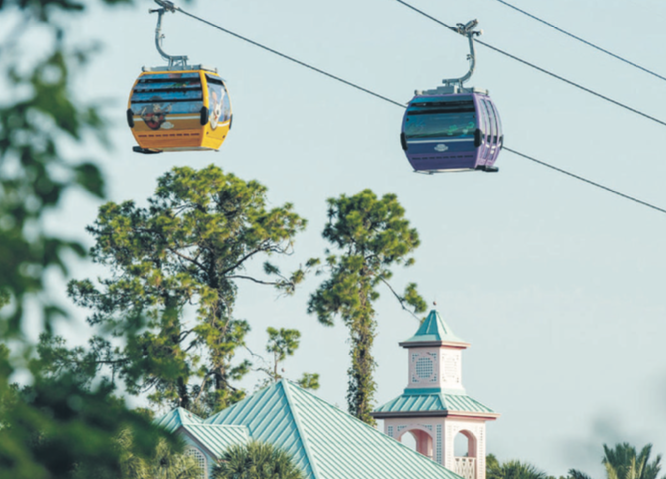 Prior to the COVID-19 pandemic, Disney World was Orange County's No. 1 employer by far with more than 74,000 employees and comprised nearly 10% of all county employment, according to Orange County documents. Florida Hospital/Adventist Health System came second with a staff of about 29,000, less than half of Disney's Central Florida workforce.
Opportunities came from the arrival of Disney's competitors, too.
Universal Orlando Resort, which opened in 1990, employs about 25,000 people and expected to add about 14,000 new jobs with its upcoming theme park Epic Universe. SeaWorld Orlando, which debuted in 1973, just two years after the Magic Kingdom, employs about 6,000 people.
For every $1 million tourists spend, they support eight jobs.
That same spending would only support five jobs in the overall private sector, according to the U.S. Travel Association.
From 2010 to 2018, travel jobs increased 22%, a faster rate than the rest of the economy. Forty-three states and the District of Columbia saw faster travel employment growth than in other sectors from 2010 to 2017.
"Within this community, tourism is king," said John Chidester, vice president of marketing for the Orlando amusement park Fun Spot. "Regardless of the size of your operation, it's the engine that drives all of our businesses."
When more tourists come to spend money, that money supports more jobs.
Hotels added about 300,000 jobs in the last decade because of a 43.5% increase in hotel industry sales, according to the American Hotel and Lodging Association (AHLA), a hotel industry trade group.
Nationwide, hotels directly supported 4.7 million U.S. jobs in 2018, according to AHLA's 2018 economic impact report, issued August 2019. Total industry wages increased about 57% since 2005.
Orange County had more than 91,000 licensed hotels and motels in 2018, up from more than 78,000 in 2009, county documents showed.
Knowing how lucrative tourism jobs are to Florida, the university closest to Disney World would prioritize education on hospitality and tourism management.
The University of Central Florida first began offering a hospitality program in 1983, 12 years after Disney World's debut, but at first it was part of its business school.
What would be known today as the Rosen College of Hospitality Management came when the program's namesake, Orlando hotelier Harris Rosen, donated 20 acres of land and $10 million for a new hospitality campus on the grounds of one of Rosen's resorts, located close to Orlando's attractions.
It's now the largest hospitality college in the U.S., with more than 3,000 students enrolled, according to UCF.
Rosen College was ranked the best hospitality and tourism college in the U.S., and second best in the world, according to the 2021 ShanghaiRanking, which ranks the programs of world-renowned universities.
"Our college is among the best on a global stage, and we will continue to provide stellar academics and research that will serve our stakeholders and industry partners now and into the future," Youcheng Wang, dean of Rosen College, said in a statement.
Baker, the Rosen College theme park management professor, said the success of Disney World helped make the college — and by extension, her job — possible.
Perhaps fittingly, the path that led Harris Rosen to donate the land for the college was made possible because of Disney World. Prior to owning numerous hotels and resorts in Orlando's tourist corridor, Rosen worked for Disney and was instrumental in developing the Contemporary and Polynesian resorts and Fort Wilderness Campground.
Keeping Taxes Low for Residents
Teresa Jacobs learned to love the crowded highways.
The former Orange County mayor, who today is the chair of the county's school district, knows it's harder getting around Orlando than it was when she moved there about 30 years ago.
But with tourists flowing in and out of the city, Jacobs, who served as an elected official in Orange County during a time of groundbreaking theme park expansions and record-breaking visits to Orlando and Florida, sees a quality of life and lifestyle that wouldn't have been possible without them.
She sees it in Orlando's Amway Center, which hosts sporting events like Orlando Magic basketball games and concerts from big-name music and comedy stars, and the Dr. Phillips Center for the Performing Arts, which also hosts concerts as well as theater productions. Both, she thinks, would not have existed without tourist development taxes. (Perhaps owing to that sentiment, the largest venue at the Dr. Phillips Center is called the Walt Disney Theater.)
"There are not words I can come up with to explain just how significant Disney making us home was to the evolution of Orlando as a tourist destination," Jacobs said. "It really all started there."
In 2018, nine of Orange County's 10 largest taxpayers were classified as tourism companies — Disney World, Universal Studios, Marriott Corporation, Hilton Resorts, Orange Lake Country Club, Hyatt Resorts, Wyndham Resorts, Westgate Resorts and Vistana Development.
Together, they generated a taxable assessed value of about $18 billion. Eight of those nine companies saw their taxable value increase from 2009, county documents showed.
The taxes these major players generate is why state economic leaders — including Jerry Parrish, who serves as chief economist and director of research with the Florida Chamber of Commerce — attribute tourism as the reason why Florida has no state income tax.
It also helps that tourism supports just under half of Florida's jobs outside of tourism, such as retail, manufacturing and construction, he said.
"In other words, for every job we create by tourism, we create almost one other job in other, related industries," Parrish said.
Why the Magic Still Matters
The late Florida Gov. Claude Kirk, who led Florida at the time Disney World was developed, once remarked that the three most important events in Florida's history were its discovery by Juan Ponce de Leon, Henry Flagler developing the Florida East Coast Railway, and Disney World coming to Florida, Baker said.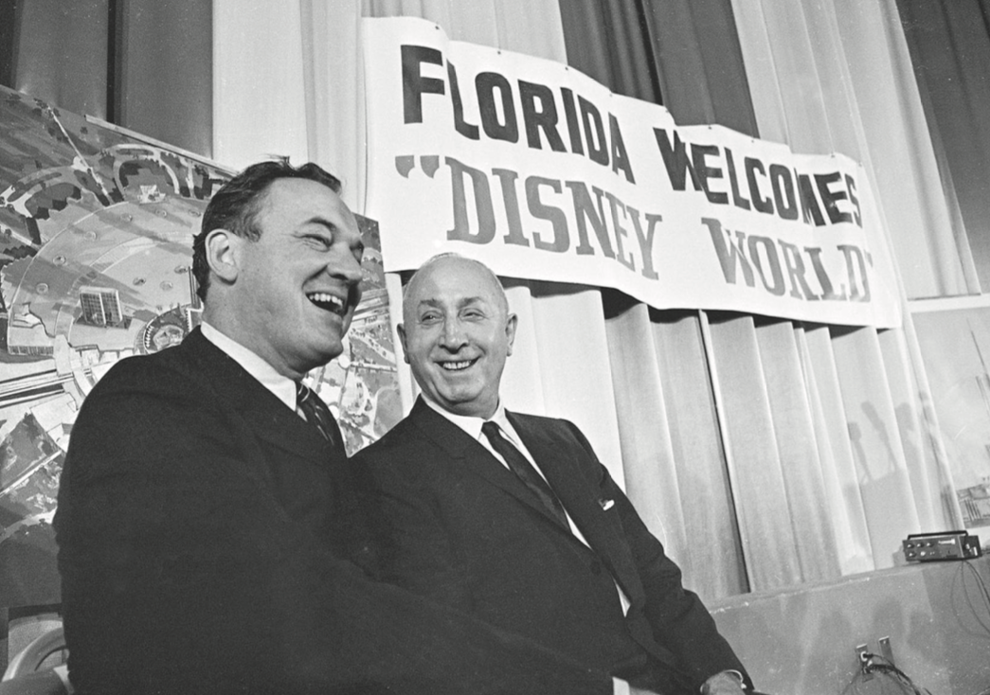 Drawing people from across the country and around the world to share in that happiness remade Orlando and Florida as world-class tourist destinations. Orlando is the most visited U.S. city, and Florida drew more than 100 million visitors each year from 2015 to 2019.
What made Disney World such a groundbreaking destination was how it introduced the concept of tourists staying on site at an amusement park, Baker said.
"When they opened with those impressive themed hotels, you have this monorail, it's the whole package," she said. "It started this destination model. There's lots of great theme parks, but they're not all destination parks. I would consider the first destination theme park to be Magic Kingdom."
Harinsky, the Villager who visited Disney World on opening week, came back many more times after that first visit 50 years ago.
And if it wasn't to celebrate the park's milestones, it was to celebrate his own milestones.
It's where he and his wife, Laurie, went on their honeymoon to celebrate their wedding.
It's also where they celebrated their 25th wedding anniversary.
"For our 25th anniversary, I asked if she wanted to go to Disney or Hawaii," Rich said. "And she chose Disney."
Their love of Disney is embodied through the assortment of collectibles that adorn the couple's house, from figurines to pins and paintings, as well as being annual passholders at Disney World for all of their 11 years living in The Villages.
"Disney is special," Rich said. "It's just the love of all things Disney, we go on their cruises, we go to their parks ... It's always managed to survive changing moods, changing styles and changing states. And it really is the happiest place on Earth, I think."
As for the park's milestones, Disney World's 50th anniversary celebration will commence over an 18-month period and include the launch of many highly anticipated attractions.
And Disney's biggest fans in The Villages plan to celebrate by being there.
Barry Gruber, a member of Mickey's "Fan"atics who refers to Disney World as his "happy place," plans to visit Epcot on Oct. 1. That day, the park will debut a new attraction to celebrate the park's birthday, the "Ratatouille"-themed Remy's Ratatouille Adventure.
Epcot holds a special significance to Gruber, of the Village of Fernandina, since it was the first Disney park he visited when he went there around the time of its 1982 opening.
"I couldn't believe it was there, seeing Spaceship Earth for the first time and looking across the lagoon and seeing all the countries, and the parades and fireworks they had at that time," he said.
Winters, of Mickey's "Fan"atics, loves big celebrations at Disney's parks because Disney commemorates the milestones with characters wearing special costumes, shops offering special merchandise and commemorative celebrations like parades.
"They add a lot to that special celebration all year long," she said.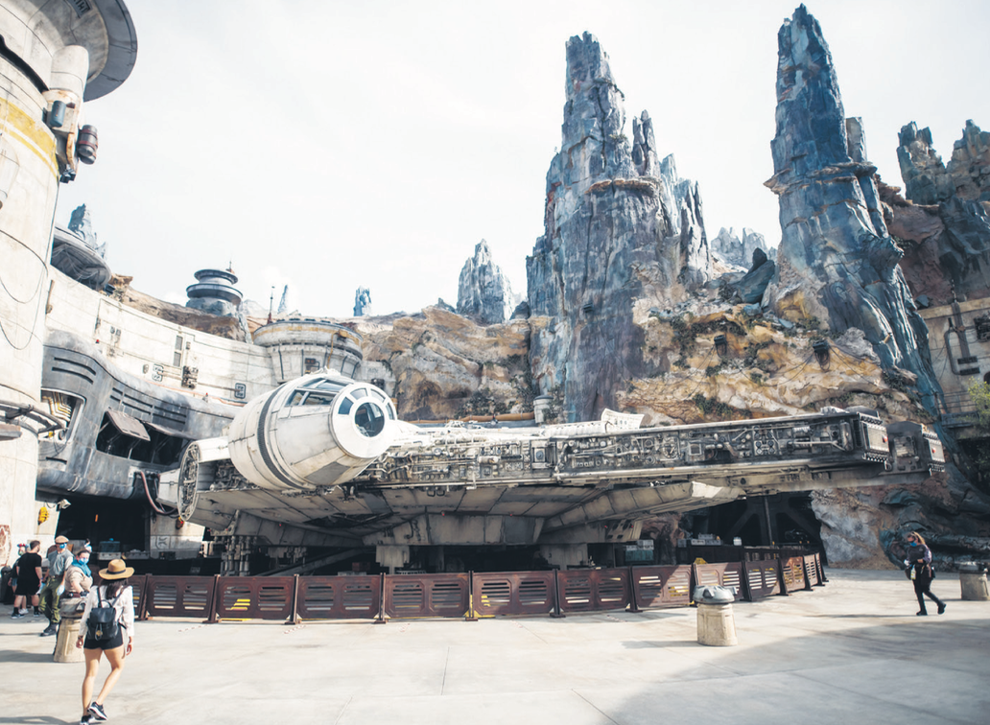 Looking to the 50th anniversary celebration, Winters is looking forward to two new roller coasters that will debut to mark the milestone, Tron Lightcycle Run and Guardians of the Galaxy: Cosmic Rewind, the latter being Disney World's first attraction based on Marvel Comics characters. Both currently remain under construction and have no scheduled opening dates, though some theme park experts predict they'll be ready to debut in 2022.
The universal appeal of the characters and stories of Disney's films, from Mickey Mouse to "Star Wars," ensures that magic will live on as those stories are passed on from generation to generation, Baker said.
"There's one reason Disney continues to stay so popular, and that's because they continue to generate their own intellectual properties. I believe they will continue to do that," she said. "And now they own 'Star Wars,' 'Avatar,' 'Indiana Jones,' Marvel, in addition to the things they already have like Pixar and their own brand. I think they will continue to remain popular as long as they continue making great content."
And nothing compares to what Disney World has to offer as a destination, said Winters, who estimated visiting at least 550 times in her lifetime.
"I think every time you go, you see something you've never seen before," she said. "Disney is never the same. Walt has always said it will always be changing, whether the trees are getting bigger or there's different flowers. Every time I go, I experience something different. And there's so much to do there, it's hard to say everyone has done everything there, no matter how many times they've been there."
Senior writer Michael Salerno can be reached at 352-753-1119, ext. 5369, or michael.salerno@thevillagesmedia.com.