Lance McCullers Jr. started on the mound in the game that sent the Houston Astros to this year's World Series.
Before he ever cut his teeth in Major League Baseball, the hard-throwing right-hander earned Gatorade National Player of the Year honors in 2012, when he dazzled for Jesuit High School in Tampa.
Backing McCullers on Houston's diamond is fellow Tampa-born ballplayer Kyle Tucker, as well as Winter Haven's Trey Mancini.
In the opposing dugout at this week's Fall Classic is where you'llfind Nick Castellanos, who brings the same jolt of energy to the Philadelphia Phillies today as he did in high school days for Archbishop McCarthy in Fort Lauderdale. Sarasota's Dalton Guthrie, who made his MLB debut just last month after a stellar three-year career at the University of Florida, and Oviedo's Zach Eflin also add Sunshine State flair to the grandest stage in the sport.
If you're beginning to sense a theme here, you're not alone.
It's a theme that gets knocked out of the park across all of Major League Baseball, as rosters from all 30 teams feature Floridians at a rate that comes only second-to-one.
A total of 116 Florida-born players graced a major league diamond in 2022, trailing only California (235), as Floridians made up approximately 11% of all U.S.-born players. From a worldwide perspective, roughly one in every 14 players on an MLB roster this season hailed from Florida.
And it's an increasing trend — Florida had more high school players selected in this year's MLB Draft (18) than anyplace else — that's not going away anytime soon.
"There's a reputation that Florida lives up to," said Vinnie Cervino, a national baseball scout for Perfect Game USA, the country's premier talent scouting organization. "There's this mantra that it's the baseball hotbed in the United States, and I think that's absolutely warranted at this point."With an advantageous climate and a plethora of first-class facilities across the peninsula, Florida's baseball talent is as ripe for professional picking as the state's grapefruits and oranges.
"I was probably the third- or fourth-best player on my team," recalled Pensacola native Josh Donaldson, the 2015 American League MVP with the Toronto Blue Jays.
Now with the New York Yankees, Donaldson noted that nine of the 11 players on his youth team, which won three consecutive Dizzy Dean World Series titles, went on to NCAA Division I baseball or turned professional. Bobby Cassevah pitched three years for the Los Angeles Angels, and two others reached the Triple-A minors.
"There was never a comfort level of going out there and being the best one," Donaldson added. "I always had to work. It drove me to be better."
From its active youth baseball scene and powerhouse collegiate programs to its historical footprint as both an MLB spring training host and minor league summer home, the state puts itself atop the list for many of those closest to the game.
"Florida is the No. 1 place for baseball development," said John Timberlake, director of Florida operations for the Phillies, who are pumping an estimated $300 million into a revamped training complex to complement their springtime home in Clearwater. "That all starts with weather and facilities in cities that have made the investment and said they want to be a part of what baseball is doing in our state."
It stands to reason that a place dubbed the "Sunshine State" would hold up well when hosting an outdoor activity that requires suitable weather, but it's a primary factor that certainly doesn't get overlooked by industry experts."I've always said springtime baseball in Florida is much more trusted than that groundhog," said Nick Gandy, communications consultant for the Florida Sports Foundation, which promotes the state's spring training cycle each year for Major League Baseball. "It's a surefire sign of warmer things to come."
The average high temperature in March is 78 degrees in Miami and 74 in Bradenton. By comparison, the March average is 36 degrees in Minneapolis and 45 in Boston.While northernmost states have advanced by leaps and bounds in recent years with indoor baseball training facilities and other similar amenities, Florida's year-round climate has long made for an uneven playing field.
"It's definitely an advantage being in Florida, being able to be outside and practice all the time," said A.J. Pierzynski, who grew up in Brooksville and Orlando and won a World Series title with the 2005 Chicago White Sox. "Northern schools can't start until March or April. My son's high school team starts in the middle of January."
Said Timberlake: "It's different for a kid up in Iowa, who might be lucky to get outside six months of the year. In the long run, that really makes a difference."
The weather also is a reason that many national youth baseball organizations frequently make their way to Florida. Perfect Game USA, founded in the not-so-tropical climate of Cedar Rapids, Iowa, just this year booked 142 tournaments and 27 scouting showcases throughout Florida — more than any other state.
"We want to be in Florida because we want to be closer to the action," said Blake Dowson, a Perfect Game USA representative. "We also want to be able to host tournaments year-round and have the chance to give athletes exposure all year round, and Florida gives us the best opportunity to do all of that."
In a classic chicken-vs.-egg scenario, Florida's favorable climate and its baseball facilities beneath that bright sun work hand-in-hand to help showcase the state's propensity for baseball talent.
Along with the in-season homes of the Tampa Bay Rays and Miami Marlins, the state hosts 15 Major League Baseball teams during spring training each year, playing in 13 ballparks across a dozen Florida cities.
A marriage consummated in commerce long has stood between spring training and Florida, with nearly $700 million in economic impact brought to Florida each year, according to a study conducted by Downs & St. Germain Research, a Tallahassee-based firm.The annual two-month stay is responsible for a reported 7,000 jobs across the state, producing more than $250 million in wages for Florida residents, while generating more than $100 million in revenue for the state's hotel industry and another $60 million for restaurants.
"MLB spring training is an enormous economic driver for our local business community and our hospitality industry," said George Linley, executive director of the Palm Beach County Sports Commission, which hosts a Florida-best four MLB teams each spring. "It provides one of the largest economic boons created by any annual event that takes place (in Florida)."
Florida is also home to a dozen Minor League Baseball teams each season, with 10 teams making up the Low-A Florida State League (FSL) and one each at the Triple-A (Jacksonville) and Double-A (Pensacola) levels.
The FSL organizations, many owned and operated by their MLB parent clubs, also share the facilities and stadiums in which the big-league clubs host spring training each February and March. Those sites become training and injury rehabilitation homes for players of all levels, as well as instructional venues for rookies and international signees.
"There's a lot more to the relationship between baseball and Florida than just these two months. It's actually a year-round operation," Gandy said. "We work with teams and organizations who keep personnel staff at these state-of-the-art facilities throughout the year, whether they've got their minor-league teams there or not, to allow players to come and train or rehab their injuries at any time."
But hosting baseball goes beyond the major and minor leagues for many Florida cities, as municipalities look for other ways to bring in teams, players, support staff and fans.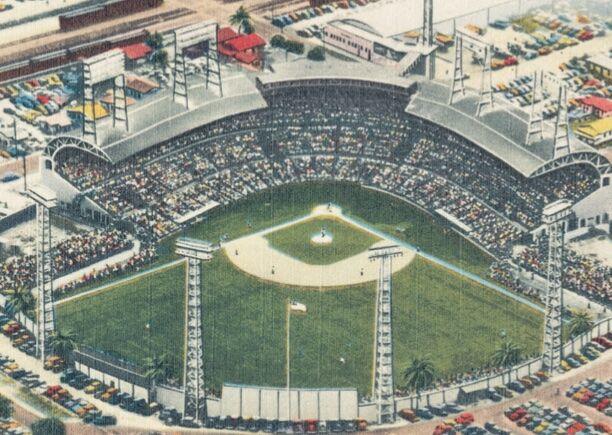 The state is home to several early-season college baseball events each year, bringing northern-based teams to the Sunshine State in mid- to late February to escape frigid climates back home and often see their first live game action of the year.
"Because you've got all these major league teams finding success hosting spring training, you've got cities saying they want to be in the baseball business, too," Timberlake said. "They want these tournaments and they want 150 games over a week played at their ballparks, so they're spending nights in their hotels and spending money in their economies.
"There's a lot of economic factors in play for Florida communities when it comes to baseball, and that's allowed them to become a little more aggressive in hosting it."
And as the 1989 baseball blockbuster film "Field of Dreams" taught us: If you build it, they will come.
With the increase in baseball events to the state comes an increase in exposure to young fans, which in turn throws them into the climate- and facility-fueled cycle to potentially become the state's next great talents.
"If you really want to get deep into the weeds, I think this established foundation of good baseball in Florida goes back to spring training being held there every year for several generations now," Dowson said. "I just think that breeds a lot of baseball fans. With so much baseball played in Florida, it only makes sense that more kids will grow up around it, they'll grow up liking it, and they'll grow up wanting to play it.
"And when you put them in good weather and in good facilities, you see what happens."
The dawn of baseball in the Sunshine State dates back to the mid-1800s, as the first organized semiprofessional teams and amateur-laden units began sprouting in Florida's most northern regions.
Additionally, some of Florida's earliest baseball beginnings trace back to sugar cane field workers in the southern end of the peninsula, with harvested plots of land transformed into makeshift diamonds for a recreational pastime.
It wasn't until 1888 when the first Major League Baseball team ventured within Florida's state lines, as the Washington Statesmen traveled to Jacksonville for three weeks of training before the start of the season.
A handful of teams experimented with a Florida springtime swing over the next 30-plus years, before the state's commercial land boom of the 1920s paved the way for even more organizations to stage preseason practices and games in the state.
"The managers, coaches and players, they'd buy real estate. They'd buy bowling alleys and bars or homes in the area," said Gary Mormino, professor emeritus of history at the University of South Florida and contributor to the Tampa Baseball Museum. "So it was not just a flirtation. This was a love affair that was consummated in commerce."
And once baseball itself became firmly established in the state, baseball stars themselves soon began to flourish in Florida.
Al Lopez, a native of Tampa, began his career with the Tampa Smokers in the Florida State League at just 16 years old before enjoying a 19-year MLB career as a player and serving 17 seasons as manager in the big leagues. Lopez joined Negro Leagues legend John Henry Lloyd in becoming the first Florida-born players to be inducted in the National Baseball Hall of Fame in 1977.
Steve Carlton went from playing American Legion ball in Miami to winning four Cy Young Awards and two World Series titles with the Phillies. He was voted into the Hall of Fame in 1994. Andre Dawson, another Miami native and 2010 Hall of Famer, was the 1987 National League MVP with the Chicago Cubs among eight MLB All-Star selections.
More recently, Florida had connections to four MVPs in a five-year run — Ryan Braun (NL 2011/University of Miami), Buster Posey (NL 2012/Florida State), Andrew McCutcheon (NL 2013/Fort Meade) and Donaldson.
The state also has produced such managerial geniuses as Tampa natives Tony La Russa and Lou Piniella, plus a handful of executive masterminds like Oakland Athletics executive vice president Billy Beane (Orlando/Jacksonville).
With all the opportunities in the state and a rich history on its side, that homegrown talent starts to spread evenly across all levels, with Florida's youth, preps and collegiate landscapes pushing for the country's best at every tier.
The state is home to more than 60,000 Little League players, competing across 23 districts within eight geographical regions, with Florida-based teams reaching the prestigious Little League World Series eight times since 1948.
"When we went to tournaments, we never felt overmatched," Donaldson recalled.
Florida boasted a nation-best four of the top 25 high school teams in 2022, according to final national rankings compiled by MaxPreps. Two finished in the top five — Marjory Stoneman Douglas outside Fort Lauderdale and IMG Academy in Bradenton.
"Florida is the hotbed because it's where you can improve all the time," said Brady Bogart, pitching coach at the University of North Florida who previously spent 11 seasons as The Villages High School's head baseball coach. "The way baseball has changed, from the weight room and training methods to even analytics, there's so many places kids can go here now to learn more about themselves and learn how to become better ballplayers."
And athletes in Florida are realizing they don't have to go very far to advance their careers. Many choose to stay close to home, such as DeLand's Jacob deGrom (Stetson University), a two-time NL Cy Young Award winner with the New York Mets.
The state houses a total of 11 NCAA Division I baseball programs, 10 of which have made the NCAA Tournament since 2015. The "Big Three" of Florida (Gainesville), Florida State (Tallahassee) and Miami (Coral Gables) have combined to win five national championships over the past 40 years, and this year produced 13 selections in the MLB Draft.
Additionally, Miami's 25 appearances at the College World Series rank No. 2 all-time, while Florida State's 22 trips are tied for third and Florida's 12 visits to Omaha rank 11th.
"There's so many good players in the state that it makes recruiting for all schools, really at all levels, extremely competitive," Cervino said. "If those teams wanted to — and some of them do — they'd never really ever have to leave the state. They could field the teams they want to simply by staying within Florida state lines, and I think that says a lot about the talent here."
But not all of the talent is born here, Dowson notes. The influx of Latin Americans to Florida, particularly in the southern part of the peninsula, brings athletes from their own baseball-enriched cultures into the state's talent pool.
At the age of 12, Francisco Lindor moved with his family from his native Puerto Rico to Central Florida, with the eventual four-time MLB All-Star and current Mets infielder enrolling at Montverde Academy.
The late Jose Fernandez, a Marlins pitching phenom who died in a 2016 boating accident, defected from Cuba to Tampa as a teenager before earning 2013 NL Rookie of the Year honors.
Additionally, New York-born Alex Rodriguez arrived in Miami in the fourth grade after a five-year stay in the Dominican Republic. He grew to become the nation's top high school prospect while playing for Westminster Christian School, was the No. 1 pick of the 1993 MLB Draft and won American League MVP honors three times.
"The Latin influence in Florida is one of the biggest things that I don't think a lot of people realize when it comes to baseball talent," Dowson said. "There are a lot of kids moving from Puerto Rico or the Dominican Republic that come and play in Florida cities, which turns them into Florida kids and helps add to those statistics. You start looking at a bunch of different things, it all adds up for Florida."
All of that also adds up to what we've seen thus far throughout baseball's postseason — which is one Florida-born player making an impact right after another, symbolically carrying forth a trend that's as firmly entrenched as baseball to America itself.
"If you're going to start ranking states, as far as where baseball talent comes from, Florida is right at the very top," Dowson said. "It seems it's Florida and then it's everybody else, and the reality of it is that's a year-after-year thing at this point."
Senior writer Cody Hills can be reached at 352-753-1119, ext. 5286, or cody.hills@thevillagesmedia.com.