There was a celebration at St. Vincent de Paul Catholic Church in Wildwood earlier this year. After years of prayer and fundraising, the church was ready to build and cut the ribbon on its new Family Life Center and Parish Office. Bishop John Noonan, who leads the Roman Catholic Diocese of Orlando, was in attendance to celebrate Mass ahead of the formal opening. "It seems that every time I come to St. Vincent de Paul, this church is always building and expanding," Noonan joked. "But that is a good thing for the church, the area and the diocese." Noonan told parishioners that a number of Roman Catholic churches were shutting their doors in New England for various reasons: lack of money, fewer parishioners, general apathy. But Noonan said things are different in The Villages and Central Florida as a whole.
"Up north, churches are closing,"  he said. "But here in the Diocese of Orlando, we are seeing churches growing and thriving. And that's in part because of you, the parishioners, who support their local churches and are helping them expand."
The success and growth of St. Vincent de Paul and other Villages-area houses of worship come at a time when research suggests that interest in religion as a whole is declining at a rapid pace in the United States.
According to a Gallup survey released Monday, 47% of American polled said they belonged to a church, synagogue or mosque. That's down 23 percentage points from 1999 and the first time in the poll's 84-year history that the number was below 50%. Between 1937-2000, the Gallup survey measured U.S. church membership at around 70%.
By comparison, those who consider themselves atheist, agnostic or religiously unaffiliated has grown from 8% between 1998-2000 to 21% over the last three years.
Breaking down by generation, the Gallup study revealed that church membership is strongly connected by someone's age. The poll noted that 66% of traditionalists — those born before 1946 — belong to a church. By comparison, 58% of baby boomers — those born between 1946-1964 — are church members; half of Generation X members polled — who were born between 1965-1980, are part of a church; while just 36% of millennials, those born between 1981-1996, say they belong to a church.
Not only that, three in 10 millennials say they have no religious affiliation, while one in three adults in Generation Z — born after 1996 — say they have no religious preference.
Despite all these numbers, The Villages area may be bucking that trend. Consider that since 2019, the community has seen:
Hope Lutheran Church opening a temporary third campus at Everglades Regional Recreation Complex in the South Villages, with plans to build a permanent sanctuary on Meggison Road.
First Baptist Church of Leesburg opening a permanent Village Park Campus next to the Village of Pine Ridge in Fruitland Park.
Rock of Ages Lutheran Church in Wildwood opening its first permanent house of worship after years of using other buildings.
Live Oaks Community Church in Oxford launching a "Southern Oaks Campus" in Wildwood, as well as expanding its original campus in Oxford.
Christ Lutheran Church dedicating its first permanent house of worship in Summerfield.
St. Vincent de Paul Roman Catholic Church opening its new Family Life Center, as well as planning to expand its existing sanctuary.
Several churches and congregations planting roots in The Villages area.
And the numbers for these local houses of worship are impressive as well. First Baptist Leesburg has gone from averaging 1,100 people at its weekly services in 2015 to 1,800 in early 2020, shortly before the start of the coronavirus pandemic. While expansion to The Villages and Fruitland Park has played a role in that growth, church leaders emphasize there's also a spiritual reason.
"I would definitely explain our growth in the last five years as simply the grace of God," said Senior Pastor Cliff Lea of First Baptist Leesburg. "The Lord has been faithful to give us the opportunity to start some new locations in areas where there is strong population growth."
And despite its location adjacent to The Villages, the Village Park Campus is a multigenerational sanctuary that caters to Villagers, younger families from Fruitland Park and neighboring communities.
"First Baptist Leesburg may be three campuses, but we are one church with the same message," Lea said.
"So the church throughout all Judea and Galilee and Samaria had peace and was being built up. And walking in the fear of the Lord and in the comfort of the Holy Spirit, it multiplied." Acts 9:31
The Pew Research study and the apparent contradiction in The Villages does not surprise David Hackett, who teaches at the University of Florida's Department of Religion. Hackett says keen readers should look beyond the basic numbers and consider other sociological and economic factors.
"In The Villages, you have older residents, many of them coming from middle- and upper-middle class lifestyles before retiring and coming to Central Florida," he said. "When they come to a place like The Villages, they are seeking a sense of community and intimacy. Houses of worship provide that."
Hackett also noted that older people tend to consider and contemplate their mortality more than those who are younger, so they may also seek or rediscover their faith to help find answers to questions about eternal life.
New Covenant United Methodist Church has seen weekly attendance go from 2,078 in 2014 to 2,708 in early 2020. Church Senior Pastor Harold Hendren cites several factors in the church's growth.
"As The Villages continues to grow, New Covenant and other churches are growing as well," he said. "The Villages is primarily a retired demographic that attended church elsewhere before coming here. When they arrived, they start looking for a church to call their own."
But the growth is a lot more than attending services on a Sunday morning.
"When people come to The Villages, they enjoy the lifestyle and free time," said Hendren. "But after a while, they want opportunities to give their time to something, to serve. New Covenant is very mission-oriented with a host of outreach opportunities that give people a chance to connect not just with Christ, but with each other."
Live Oaks Community Church has seen its attendance triple in just four years, going from 250 weekly congregants in 2015 to 750 today.
"I would attribute much of our growth to a vision that is spot-on for people of this age and stage in life," said Chris Holck, senior pastor at Live Oaks. "We started our church from scratch so we could decide what our core values and ministry priorities would be. We created a new church that was defined by statements like, 'If you're not dead, you're not done' and 'Play hard! Pray hard! Finish well!' Those statements resonate with people who want more out of life, who want to make a difference and leave a legacy."
"Not neglecting to meet together, as is the habit of some, but encouraging one another, and all the more as you see the Day drawing near." Hebrews 10:25
One does not have to be in an actual church building of their own to host a service. Of the recent churches planted in The Villages area, only a few actually hold services in a sanctuary specifically built for them, such as First Baptist Church of Leesburg's Village Park Campus and Christ Lutheran Church.
But these new congregations manage to make do. The local Byzantine Catholic community meets Sundays at St. Alban's Anglican Church in Lady Lake. Living Grace Church has transformed part of a Summerfield business park into a sanctuary for its congregation. And in Wildwood, an upstart church has found a way to transform a family business into a house of God.
There is a stretch of East County Road 462 in Wildwood that many call "Church Row."
That's because over a 1-mile stretch, several churches call the road home. St. Vincent de Paul Roman Catholic, Grace Anglican, Rock of Ages Lutheran, New Life Christian and Village of Faith Baptist all have sanctuaries on that stretch. Freedom Fellowship of The Villages owns property on that stretch of road and plans to build a permanent sanctuary in the future.
But on recent Sundays, people traveling on U.S. Highway 301 have noticed a large flag placed at the East County Road 462 intersection. The flag says "Reclaimed Church," and those curious are encouraged to drop by In His Steps Dance Company in Wildwood for Sunday worship.
"You can thank my father for the flag," Pastor Korey Wilkinson of Reclaimed Church said. "The church started as a family, with small groups meeting in private homes. When we were ready to take that next step and move into another building, my dad said the best way to do that would be something large and bold to get drivers to notice."
Wilkinson and his family are well-known faces in local religious circles. Wilkinson's father co-founded Grace Tabernacle in Wildwood and served as its worship pastor for more than a decade. About four years ago, the Wilkinson family contemplated starting something new.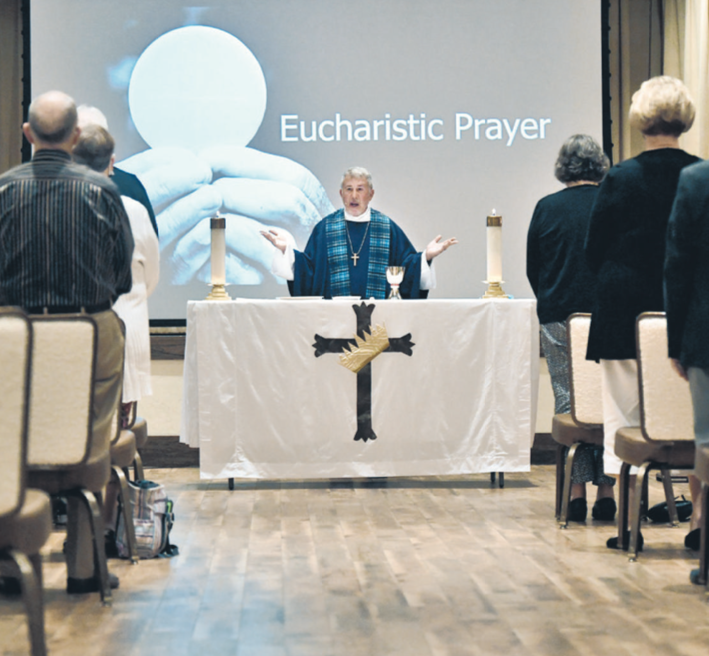 "I had that calling to be in ministry for a long time, but didn't know what it would look like," Wilkinson said. "My dad started churches in the past, both of my parents were pastors and my sister and I grew up in church. I eventually realized that I should become a pastor to form relationships, get to know people and guide them closer to God."
Reclaimed Church is truly a family affair. Family also played a big role in how they found a place to worship.
"My sister is the studio director for In His Steps Dance Company, and I've taught acro there for five years," he said. "I teach there full time and pastor full time. The family works at the dance studio during the week, then, on weekends, transforms the space."
The first Reclaimed Church service at In His Steps Dance Company took place in mid-November, and Wilkinson said the church averages about 35 people for its weekly services.
"I would say around 90% to 95% of our congregation consists of people under the age of 30," he said. "We offer a 'Kids Church' for our youngest of congregants, and we had 16 children in attendance on a recent Sunday. We've also launched youth group for older kids, as well as small groups on Sunday nights. For a number of our congregants, this is the first time they've stepped foot inside a church for years, sometimes ever."
"What then, brothers? When you come together, each one has a hymn, a lesson, a revelation, a tongue, or an interpretation. Let all things be done for building up." 1 Corinthians 14:26
In the Roman Catholic Church, the Easter Vigil is considered the beginning of the celebration of Easter and the resurrection of Jesus. Traditionally held on Saturday night, the Easter Vigil is traditionally divided into four parts.
There is the Service of Light, where a Paschal candle is blessed and lit to mark Easter. There is a Liturgy of the Word, where there are multiple readings from both the Old and New Testaments. And there is the Liturgy of the Eucharist, where eligible parishioners receive Holy Communion.
But between the Liturgies of the Word and Eucharist comes a special moment in all Roman Catholic churches. This is the moment where new members of the church are presented and welcomed. Some will be baptized, while others will receive Holy Communion and Confirmation.
The process is part of the Rite of Christian Initiation for Adults (RCIA), and Roman Catholic churches around the world are encouraged to offer this program.
At St. Timothy Roman Catholic Church in The Villages, seven RCIA "students" were recognized Saturday eveningduring Easter Vigil.
"These last 12 months, we had four adults and three children go through the RCIA process," said Anna-Marie Wright, director of adult faith formation at St. Timothy. "Obviously, this 12-month period has been tough due to COVID, but we found ways to make it work."
Traditionally, St. Timothy has those participating in RCIA gather in-person, but the coronavirus pandemic prevented that for the most part. Instead, the seven would participate over the phone or through Zoom meetings to continue their process.
"It was quite convenient for both the students and those assisting them in the process," Wright added. "Everyone was able to stay home and stay safe, but also learned the lessons that they needed to learn."
The U.S. Conference of Catholic Bishops defines RCIA as a process in which participants "undergo … conversion as they study the Gospel, profess faith in Jesus and the Catholic Church and receive the sacraments."
St. Timothy's recent RCIA class came from two different paths, Wright said.
"Of the seven, four are what the Roman Catholic Church calls catechumens," she said. "These are people who have never been baptized in a Christian church, and are seeking full initiation into the Roman Catholic Church through the three Sacraments of Initiation, which are Baptism, Eucharist/Holy Communion and Confirmation."
During Saturday's Easter Vigil, the four catechumens were baptized into the Roman Catholic Church, and they will now seek Holy Communication and Confirmation down the road.
The three remaining RCIA students at St. Timothy are what the church calls candidates. All three were baptized in another Christian denomination, which the Roman Catholic Church accepts. As a result, they received Holy Communion and Confirmation during the Easter Vigil.
The entire RCIA process traditionally takes about a year, but it can differ depending on the person going through it. That's because there are several steps that catechumens and candidates must go through.
"First, there is the Pre-Catechumenate, where potential students acknowledge that Jesus is calling them into the church and reflect on that," Wright said. "If they wish to continue in the process, they enter the Rite of Initiation, where they are accepted into the worshipping community."
Following that comes the Catechumenate, where RCIA students learn the traditions, customs and doctrine of the church. During this time, the students begin attending Mass regularly and participate in church rituals.
Eventually, catechumens and candidates are chosen to receive the Sacraments of Initiation at Easter Vigil. But once that happens, the process does not end.
"After they are initiated, the students enter a period of 'mystagogy,' which is a time to explore the deep mystery of our faith," Wright said. "It is a time of great reflection and celebration after the formal initiation into the church."
St. Timothy also is sharing the spiritual journeys of those who either joined or returned to the Roman Catholic Church. The "Spiritual Journeys Video Series" launched last month at sttimothycc.com, and features parishioners sharing their stories with others. The first subject is John Ebert, who explained why he returned to the church.
"For years, I drifted away from the church for feelings of guilt and fear, and was afraid to come back and face ridicule and judgment," Ebert said in the video. "I found St. Timothy online, and once I read the church's welcoming statement, I found that connection. It said that no matter who you are, you are invited, welcomed and respected here."
"For where two or three are gathered in my name, there am I among them." Matthew 18:20
The coronavirus pandemic changed the way area houses of worship looked at offering virtual and other alternative services to the community. For the longest time, the concept of alternative worship was a curiosity exclusively focused to the homebound. But as houses of worship shut down across the area for months, this alternative community started thriving.
New Covenant United Methodist Church recorded more than 2,300 people viewing its worship the weekend of Dec. 26-27. More than 1,900 watched the services online — 83% of the total number. About one-third of Hope Lutheran's Central Campus congregation for services on Feb. 21 was virtual. Of the four Sunday services offered at Christ Lutheran Church in Summerfield, the best-attended is usually the 9 a.m. "Worship Without Walls" service, where congregants watch outside from their vehicles and take Communion shortly before driving home.
And at Wildwood United Methodist Church, alternative worship is the norm, not the exception.
The Rev. Michael Beck has seen the ups and downs of church attendance firsthand. The co-pastor of Wildwood UMC and St. Mark's United Methodist Church in Ocala travels across the country as a religious ambassador, and doesn't like what he sees.
"The church is in a massive decline in much of the country," he said. "People have no interest in stepping foot in a church."
But Beck, who has been at Wildwood UMC for about a decade, sees something different in and around The Villages.
"The Villages is a last bastion of Christiandom," he said. "Much of our Wildwood UMC growth in recent years has been Villagers, but they, in turn, are using their skills and leading the way in introducing the church to Wildwood residents, as well as Villages employees and their families."
Since arriving at Wildwood UMC, Beck said membership has gone from around 30 back in 2011 to about 300 just before the coronavirus pandemic. He added that's due in part to a global initiative that his church has embraced called "Fresh Expressions."
"Fresh Expressions began in 2004 as an initiative by the Church of England and British Methodist Church," said Beck. "It was established primarily for those who are not part of any church but want to help and serve Jesus."
That means stepping out and starting new or different forms of church based on something in particular, and leading Wildwood UMC to outreach in a number of unique ways. They include Bible study at a Lady Lake eatery, worship at an Ocala tattoo parlor and outreach at a Wildwood dog park.
"Villagers played a critical role with one of our initiatives, Arts for Love," said Beck. "It's a mixture of fellowship and fun where people can stop by and make their own greeting cards and other crafty projects."
When the coronavirus pandemic shut down the church and forced the cancellation and postponement of many of its gatherings, Beck and others found ways to expand the Fresh Expressions spirit to the virtual community and keep the church family together.
Worship and Bible studies were now available on Wildwood UMC's Facebook page. The church launched weekly "Digital Yoga" sessions that combined faith and meditation, and introduced an online interview series to introduce congregants to those working on the pandemic front lines.
But the largest virtual initiative of all is the "Living Room Church," a house of worship planted exclusively on Facebook.
"Even before COVID-19 shut down churches and had religious leaders wondering if and when congregants would physically return to sanctuaries, there was a growing crisis with church attendance," Beck said. "Christian churches nationwide were struggling to find ways to bring those numbers up."
Between March and December of last year, Beck's welcomed around 600 "WildOnes," a nickname Beck gives to his congregants, to the Wildwood UMC family. All of them discovered the church through Facebook and participated digitally. Many, Beck noted, tithe regularly to the church. But there was something noticeably different.
"I think we were initially going to offer digital worship in a safe way, both for our regular congregation and those who found us through Facebook," Beck said. "But we soon realized that most, if not all of our new 'WildOnes' were people having their first church encounter. They felt safe and secure coming to church in this digital environment, and would rather stay that way."
This led to Beck inviting Nicole Fike and her husband to be part of the core leadership team at what is now Living Room Church. As Facebook campus pastor for the digital initiative, Fike does much of her work at her family home in Grayson, Georgia, about 40 miles northeast of Atlanta and a six-hour drive to The Villages and Wildwood.
"I am leading and overseeing the Facebook campus as an extension of Wildwood UMC's vision," she said. "This will be done by reproducing the spiritual and cultural DNA of the church in the Facebook group, building a healthy campus leadership team, and working with church leaders."
Fike is a believer in Beck's message, taking a yearlong training mission on Fresh Expressions while studying for her graduate certificate online at Sioux Falls Seminary in South Dakota. By the fall of 2019, Fike was tuning in online to Wildwood UMC services on Facebook to learn more about Beck's ministry.
"I wanted to see him in action, how he and his team were able to pull it off and how I could do it on a local level," she said. "Over time, Beck was becoming a mentor for me."
Living Room Church is more than just people from the Villages area pivoting full-time to virtual worship. Fike noted that some of the digital "WildOnes" include people from Georgia, Virginia and Illinois.
"Facebook is home to over a billion users worldwide," he said. "There are people in different levels of their spiritual development who, for whatever reason, do not feel comfortable entering a sanctuary. They feel far more comfortable doing work and interacting online. There is a virtual audience looking for a church that understands this, and we believe Living Room Church is that solution."
"There is also a fair amount of the U.S. population who work on Sundays, meaning worship does not fit their lifestyles," Fike added. "Living Room Church is a way to connect those who can't go to church or don't want to physically be there."
This morning, Wildwood UMC holds its first indoor worship service in more than a year. But Living Room Church will continue, with services and events taking place on the "Living Room Church" Facebook page.
For both Beck and Fike, Living Room Church is the future of worship and outreach.
"I hear from pastors and other church leaders from across the country who are thinking about the future direction of ministry once COVID-19 subsides," Beck said. "For churches to turn around, survive and thrive, now is the time to think about the digital audience and how to embrace them. There is a digital population that wants to be part of a church family. They just want to do it differently."
Senior Writer James Dinan can be reached at 352-753-1119, ext. 5302, or james.dinan@thevillagesmedia.com.