America's most lethal killer strikes swiftly and silently. Sometimes, it's a fist clenched around the middle of the chest. Other times, it's a dull ache between the shoulder blades or a sore jaw or something that just feels like indigestion or the flu. It's the most deadly threat to both men and women, bringing a fight for life that usually ends in minutes. Heart disease is more voracious than ever in U.S. society, responsible for one in every three deaths — up from one in ever four a decade ago. In fact, it will have claimed its latest victim in the time it takes to finish this paragraph. About 2,200 Americans will succumb to a cardiac event today, or nearly 800,000 this year, according to the Centers for Disease Control. The median age for victims is 64, so the risk is even greater in places such as Sumter County, home to the nation's highest median age at 67. Yet community innovations in the country's largest retirement community are defying the odds with a stunning cardiac save rate that is four times greater than the national average of only one in 10, a yearlong Daily Sun investigation into national data has found.
The Villages community of nearly 125,000 was master-planned with all homes built within roughly a 2.5-mile radius of a fire station and centered on an active lifestyle in "American's Healthiest Hometown." But it is an unprecedented citizen squadron that gives responders a better chance to save a life here than almost anywhere else.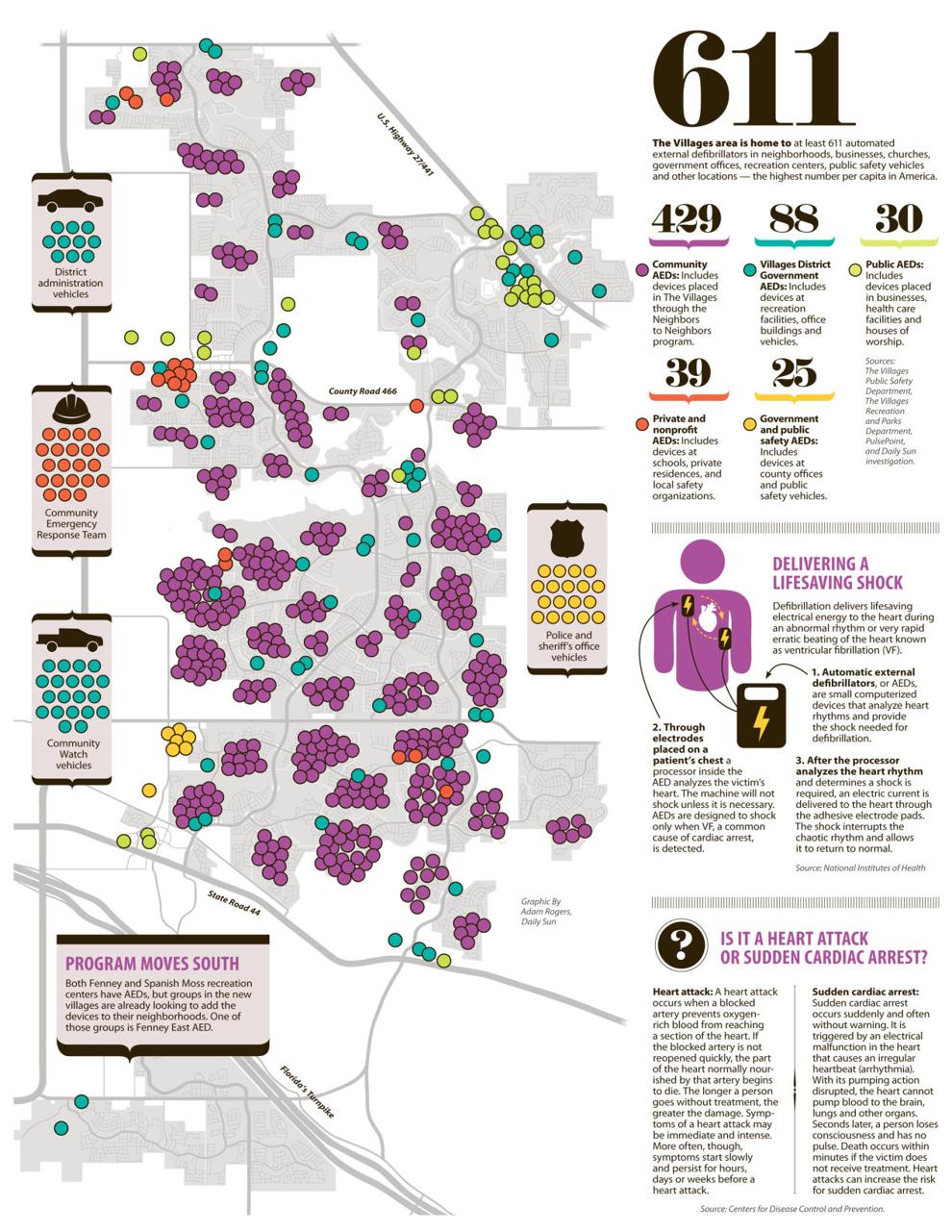 Among the Daily Sun's findings:
• The Villages is home to at least 611 automated external defibrillators (AEDs), more of these devices per capita than any other U.S. community for which data was available.
• The Villages cardiac save rate was 40 percent in 2018 as 24 of 60 cardiac arrests became "code saves" for firefighter-medics with the public safety department. In 33 percent of those events, bystanders performed CPR before paramedics arrived.
• Nationally, only 38 percent of the reported 76,215 cardiac arrests in 2017 that occurred outside of hospital setting involved bystander CPR. And a bystander was able to find a nearby AED less than 10 percent of the time.
• Despite the ballooning death toll from cardiac events, there is no nationwide standard for reporting data that would reveal outcomes or best practices. The national Cardiac Arrest Registry to Enhance Survival (CARES) is based solely on voluntary reporting and keeps rates per community confidential, sharing only with the reporting agency.
• Only a few pockets such as Seattle, Washington, also boast cardiac save rates above 10 percent national average, but there is no mechanism for cities to share innovative approaches, other than what they create on their own. The Daily Sun analysis of cities with populations of 100,000 found that only The Villages matches up the resources and notifications of a CPR/AED trained public and a large number of AED devices with those in life-or-death need.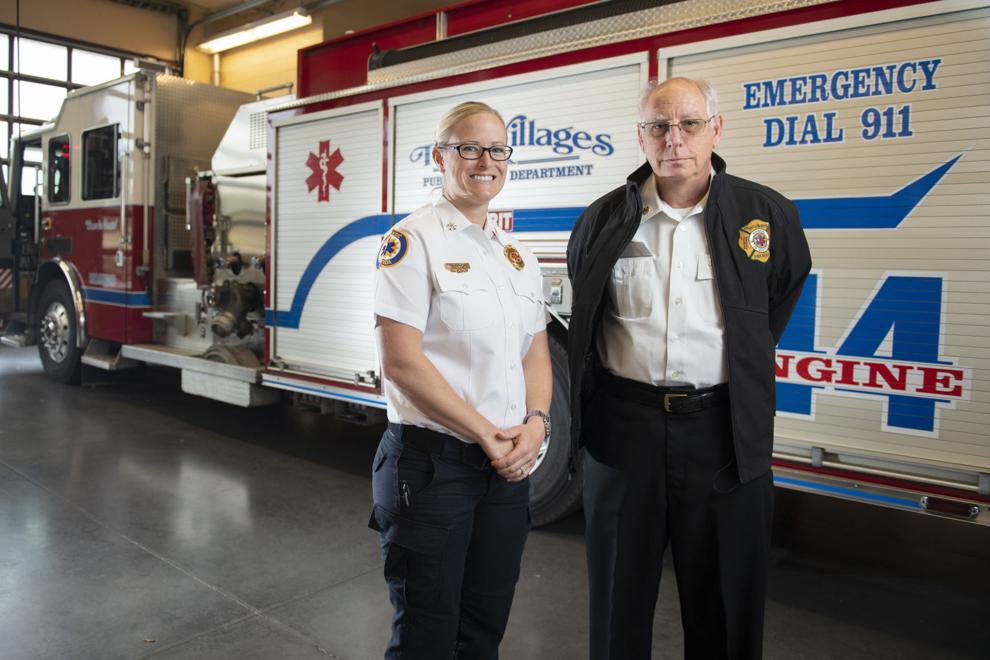 A model unlike any other in The Villages
Villages Public Safety Fire Chief Edmund Cain attributes the high local save rate the combination of quick emergency and citizen response.
"It's 911 call-takers able to prompt citizens to do CPR, our AED neighborhoods, the presence of AEDs throughout the community and the rapid response of a paramedic service fire department," he said.
Here, homeowners's proximity to fire stations allow for an average response time of 4 minutes, 15 seconds. That's well below the industry standard of 6 to 8 minutes and half that of King County, Washington, where Seattle's cardiac save rate is widely touted.
Unlike anywhere else in the country, The Villages has an innovative series of 195 CPR/ AED trained neighborhoods in which residents buy AEDs and receive training in their use and in CPR from public safety officials. It's an army of 4,500 and growing, equipped with 429 AEDs and.a system that alerts them alerted at the same time emergency crews are dispatched.
Every second counts since a patient will typically lose brain function within six minutes of cardiac arrest without CPR.
An exhaustive canvassing of the community by the Daily Sun found another 192 AEDs in public places such as every recreation center, some government buildings, dozens of businesses, every Community Watch vehicle and some law enforcement vehicles.
That means The Villages has a per capita rate of at least 512 AEDs for every 100,000 residents compared to Seattle's 413.
"The overwhelming demand for CPR classes and increase in involvement in AED groups just shows how much our community is coming together for a good cause," said Kara Watts, Division Chief of EMS.
Residents who want to participate in the program find neighbors willing volunteer as responders trained in CPR and AED use. Program coordinator Lt. John Longacre then calculates the number of AEDs for the size of the neighborhood (ideally there's one every 850 feet) and provides a cost estimate. The larger the group, the more likely the outcome of a cardiac event will be positive.
Longacre arranges a "drop dead drill" where responders act out a cardiac emergency for residents to practice.
Happy Rideout, CEO of ReadyAlert, said that citizen responders have an average response time of about 90 seconds.
"If a person is in cardiac arrest and someone gets there within two minutes, that's a big difference since for every minute there is a delay in treatment your chances of surviving decreases by 10 percent," he said.
It's the envy of King County, Washington, where emergency officials lack organized neighborhood groups and master-planned communities, said Michele Plorde, Division Director for King County EMS.
"That is such a perfect environment," she said of The Villages's design. "You've got a naturally connected community. I love that idea."
The program here is the brainchild of Village of Glenbrook resident Lew Simon, who was inspired to buy an an AED when one saved his father's life. He started spreading the word in The Villages after moving here in 2004. 
The former financial consultant and his neighbors raised enough money to get two AEDs and a pager system for his his neighborhood.
"I knew they would say, 'But Lew, if we do this for you then we have to do this for everyone.' And that's exactly what they said," he said.
Seattle, the pioneer city for AED
At opposite ends of the country, at almost the same time, the novel idea of providing advanced medical care to a patient before transporting them to the hospital was born.
The Miami Fire Department was the first in 1969 to train firefighters in prehospital care, but Seattle was on its heels with its Medic One, now lauded internationally as a premier paramedic medicine service.
Medic One was the joint creation of the late Gordon Vickery, then-Chief of the Seattle Fire Department and Dr. Leonard Cobb, a University of Washington cardiologist, who conducted studies to determine whether lives could be saved with paramedics.
The strategy included placing a defibrillator, previously limited to the hospital, within a fire department vehicle to travel to a patient in cardiac arrest, so that essential jump-start of a quivering heart could be done as soon as possible, all while paramedics communicated with doctors back at Harborview Medical Center in Seattle.
Cobb wasn't done with his innovation.
Cardiopulmonary resuscitation, or CPR, was something that only medical professionals did then. But in 1972, Cobb organized the first mass public CPR training, which grew to 100,000 citizens in two years.
Decades later, King County, Washington is still leading the way.
Its survival rate for cardiac arrests is self-reported, but uniformly accepted as one of the highest in the world. Although 2018 data hasn't been compiled yet, its 2017 survival rate was 56 percent and its been consistent at 55 percent over the last five years, according to King County EMS data.
"They are where everyone wants to be," said Jeffrey Boyd, director of clinical services in the east region for American Medical Response, which includes the contract for emergency ambulance transport service in Sumter County.
Four Medic One garage bays tucked alongside the Harborview Medical Center's trauma center/emergency department illustrates the tight partnership between county EMS, hospital and University of Washington determined to provide elite care.
But, it's King County's citizens who are key components to the proclaimed "Chain of Survival."
A survey of adults in the county revealed that 79 percent of its residents are trained in CPR, according to Plorde.
"That type of penetration in training is remarkable," she said. "The baseline for us is you need to get more people trained."
In King County, bystanders jump in to start vital chest compressions 66 to 73 percent of time, according to numbers over the last five reporting years. And that is saving lives, especially since the majority of cardiac arrests occur in the home, Plorde said.
Bystander CPR, coupled with at least 3,000 AEDs in the community, helped contribute to 251 lives saved in 2017.
Washington law requires AED buyers to notify their EMS agency, but not everyone does, Plorde said. King County even tried a public scavenger hunt contest aimed to help officials locate devices that were not previously reported.
"We're still trying to improve, we're willing to share," she said. "All of the things we know are just pieces of the puzzle."
King County officials are one of the parties that hosts Resuscitation Academies across the country. Grants supported by the American Heart Association, Laerdal Medical and Medtronic Philanthropy HeartRescue Project have made it possible to present 169 academies in 32 states with 725 agencies and 1,900 alumni.
The Seattle program is three days geared toward improving out-of-hospital cardiac arrest outcomes.
A Sketchy National Snapshot
A 2015 Institute of Medicine report sounded the alarm by revealing that less than 6 percent of the 395,000 cases of cardiac arrest outside a hospital would survive, and that less than 3 percent of the American population was learning CPR each year.
Yet mandatory reporting is not required and no Florida agency tracks comparable data at the state level, so it's nearly impossible for communities to share what's working.
"There are complex challenges and barriers to successfully treat cardiac arrests, both in communities and hospitals," said Victor Dzau, president of the Institute of Medicine. "However, if existing and developing capabilities are leveraged, the system of cardiac arrest response can be strengthened throughout the U.S."
The Florida Department of Health hired former Sunrise, Florida, Fire Chief Thomas DiBernardo in June to encourage Florida agencies and hospitals to voluntarily share data to CARES.
"Cardiac arrests are measured in a variety of ways throughout the country," he said. "With such variations in measurements it becomes challenging to find replaceable areas for improvement."
On a statewide basis, the Florida Department of Health collects information on cardiac arrests from EMS transport agencies, but is limited to "return of spontaneous circulation," according to Brad Dalton, the health department's Deputy Press Secretary. A ROS designation means the patient had returned to having a pulse when they arrived at the hospital. That information is collected through a program called Emergency Medical Services Tracking and Reporting Systems, which Dalton confirmed to the Daily Sun, is not legally mandated.
The department's EMSTARS also links to data from the Agency for Health Care Administration for hospital tracking of cardiac arrest patients to determine outcomes, but it does not lead to individual reports for EMS agencies, Dalton said. 
CARES also does not share individual agency data with the public, only with each individual agency, which can choose whether or not to share that information. Three-fourths of the country is currently left out of CARES reporting.
Although CARES annual report confirms the CDC created the national registry with Emory University, the agency's response to a Daily Sun Freedom of Information request indicates it is now funded by the American Heart Association, American Red Cross, and two AED manufacturer connections — Medtronic Foundation and Zoll Medical Corporation.
Requests for further data made directly to CARES were denied, leaving the Daily Sun to conduct its own data analysis through individual agencies.
This process revealed that most communities don't even know their own cardiac save rates or how they compare to communities that are experiencing more positive outcomes.
A Phone App to the Rescue
Not all innovations in cardiac saves are stymied by the system.
Officials at University of Florida Health, Alachua County Fire Rescue, Alachua County Sheriff's Office and Gainesville Fire Rescue came together in September to announce adoption of new tool in getting CPR trained people to those in cardiac arrest — the PulsePoint smartphone application.
Other Florida communities, such as Sumter County and Orlando, were already using the app, which alerts nearby citizen rescuers to a cardiac arrest victim at the same time EMS is dispatched.
Today, more than 3,300 communities are available on PulsePoint, including at least 2,400 smartphone users in Sumter County with the app.
"Ultimately, PulsePoint is putting you in the right place at the right time," said Shannon Smith, vice president of communications for Pulsepoint. "We are alerting people who are within walking distance of the emergency."
PulsePoint says it has had more than 64,000 CPR activations since it began eight years ago, and more than 75,000 AEDs are registered with its companion app. Smith said PulsePoint users have helped save the lives of everyone from senior citizens to high school seniors to a 5-week-old baby.
"It can be a very taxing thing to do, CPR. We encourage anyone who knows CPR and has the simple training to register," she said. "I would want someone to step in if that were me."
Saved by citizen CPR
Brayden Moeller got to enjoy another soccer season. Tom Davies competed in another Senior Games. Larry Bidwell saw all six of his grandkids last year.
All three could have missed these experiences if not for bystander CPR and AED use.
Moeller, of Inverness, visited The Villages Labor Day weekend 2017 to watch a soccer tournament at The Villages Polo Club when he was struck by lightning.
"There was no sign of a storm at all, then I felt the electricity all the way up to my chest," said Anderson DaSilva, club president of the Village Soccer Club. "It looked like there was steam coming out of his head and his feet."
DaSilva performed CPR on the unresponsive 12-year-old until EMS arrived, the first time he had ever had to use his CPR training in a real emergency.
"I just tried to focus, act and not panic," he said.
Brayden, now 14, survived the incident, and reunited with the people who helped save him two months later.
Davies, of the Village of Alhambra, knew he had heart issues, but he didn't expect to go into cardiac arrest while swimming in the Laurel Manor Sports pool in April 2017.
But he said if it had happened to him in any other place, he probably wouldn't have survived since every recreation center is equipped with CPR-trained staff and an AED.
He was on his last lap of the 500 yard freestyle in the Senior Games when he felt "a brain skip."
"If it had been the first 25 yards I probably would have stopped, but it was the last one so I just kept swimming," he said.
Moments later, Davies stopped moving in the water. Villages Aquatic Swim Team coach Bob Jennings pulled him out of the pool, then Patrick Elsmore and Nora Kimble performed CPR while facilities manager Molly Farrar got the AED.
"Having the AEDs is a great thing for The Villages. It's an outstanding thing for the community," Davies said. "If they hadn't helped me, I wouldn't be here."
Davies jumped back in the pool two months later and has competed in every Senior Games since.
Bidwell felt nothing before he suddenly dropped to the ground at the Saddlebrook Softball Complex in January 2018.
The Village of Glenbrook resident went into cardiac arrest while standing next to first base on field two.
Joe Phipps, also of Glenbrook, saw the commotion and went to help. Phipps was trained in CPR since he works for community watch.
He did compressions and then applied a shock from the AED that's stationed at Saddlebrook.
"I'm pretty thankful that I had helpers there," Bidwell said. "I'm glad I was on the softball field when it happened. If it had happened on the way there I wouldn't be here right now."
First cardiac save of 2019
Timing also played a role in Walt Scott's survival.
Scott, of the Village of Fernandina, felt his heart suddenly stop while he was driving home on January 24 on Bonifay Path.
"I started feeling funny and I thought, 'I hope I make it home.' And I didn't," he said.
Scott veered off the road and crashed into a tree in a neighbor's yard where first responders resuscitated him.
Last week Walt and his wife, Nancy, visited Station 44 to thank those who saved his life. Walt hugged and shook the hands of firefighter/EMT Daniel Moore, firefighter/ paramedic Ellis Secola, firefighter/EMT Jacob May and firefighter/EMT Anton Dawson. Firefighter/EMT Nicholas Tenniswood and Lt. Michael Stephens also responded to the call but could not be present.
"My four kids and eight grandkids want to thank you for what you did that day, too," Walt told them.
Nancy told the group they saved her life that day as well.
"This is the kind of stuff that makes it all worth it," Secola said.
Curt Hills is a managing editor with The Villages Daily Sun. He can be reached at 352-753-1119, ext. 5287, or curt.hills@thevillagesmedia.com. Mackenzie Raetz is an associate managing editor with The Villages Daily Sun. She can be reached at 352-753-1119, ext. 5354, or mackenzie.raetz@thevillagesmedia.com.