From striking pins to striking up pals, social leagues are the heart of the bowling community in The Villages. With thousands of residents partaking in more than 80 leagues year-round at both Spanish Springs Lanes and Fiesta Bowl, local bowling leagues offer both competition and camaraderie. "Here in The Villages, it's definitely a social outing every time out," said Larry Ducat, owner-proprietor of both local bowling centers. "It's people getting together with their friends, family and neighbors, and really just having a good time.
"The social leagues have changed the environments in the bowling centers for the good."
One of the biggest draws to the bowling community's social offerings is the ability to meet new people.
"What's great about our bowling leagues is you're playing with someone different every week, so you're meeting so many different people," Ducat said. "You're able to intermingle and talk as you play, and that's unlike quite a lot of other sports or recreational activities. You can really see everyone wishing everyone else to bowl well out there, too."
The community is home to both competitive and social leagues, with openings available to players of all skill levels and competitive desires.
Fall leagues traditionally kick off in August or September, with winter leagues generally rolling off in January. A dozen summer leagues are also wrapping up their final weeks of play after beginning in May.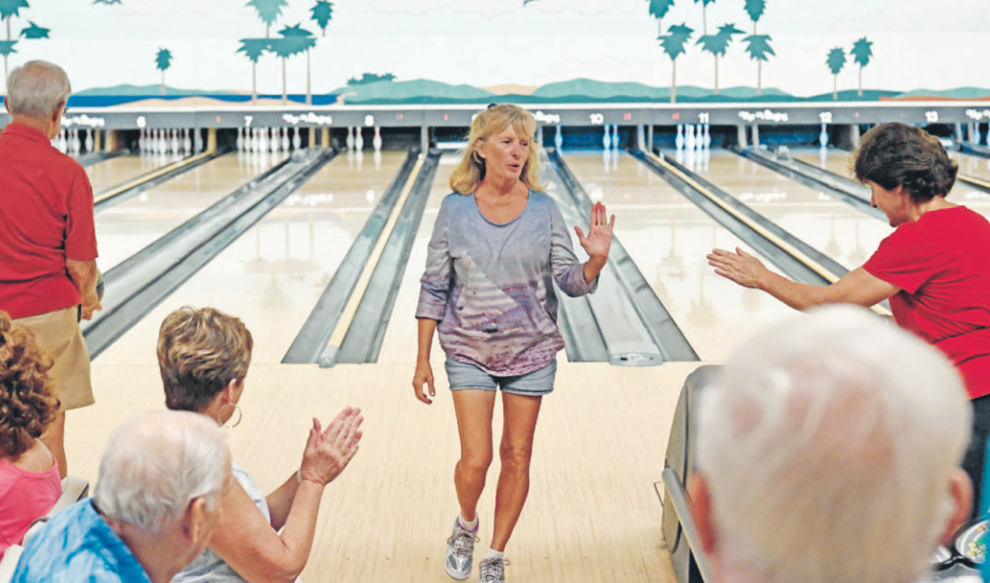 Officials at bowling's highest levels have praised The Villages' social bowling scene, with the community's reputation for hospitality and stewardship reigning supreme.
"There's a number of advantages to The Villages' social league setup," said John Weber, director of the PBA50 Tour, which has brought its national championship to Spanish Springs Lanes each of the last three years. "You see that people really get to know each other, they make so many new friends, and they compete for fun against their neighbors. Overall, it's just a great atmosphere to be in."
Along with the friendly banter found in localized competition, the social leagues have become like a second home to some members.
"I moved to The Villages about 11 years ago, and I've met many supportive and friendly people in the bowling centers," said Chuck Richardson, of the Village of Osceola Hills, who is a member of The Villages Bowling Hall of Fame. "We've had so many special moments together. We've even had a few sad times together, but everyone always rallies around each other.
"You feel that impact — you know it's there — and it's special to be a part of it."
Leagues also participate in fundraising efforts throughout the year for various charities and causes, while players boast about the positive reinforcement found within the social scene.
"It's like anything else here, it's about the camaraderie," said Village Santo Domingo resident John Gizzi. "The people that you bowl with can make your whole day. Everyone is here supporting one another and caring for each other. There's really not a day that I don't enjoy it."
That enjoyment is not taken for granted by those who congregate at the bowling centers, taking advantage of the venues' state-of-the-art lanes and the relationships with the friendly competitors playing on them.
"I think having the opportunity to bowl here is a big boost just for some mental stability," said Liz Ishley, of the Village of St. Charles, who frequents social leagues year-round in the community. "You come into a league and you don't have to be a super-duper star bowler. You do your best, have fun and just be yourself."
Staff Writer Cody Hills can be reached at 352-753-1119, ext. 5286, or cody.hills@thevillagesmedia.com.