Work has begun on the small "Brownwood Pond Bridge" south of Brownwood Paddock Square, a multimodal path connector designed to be reminiscent of steel train trestle bridges of a bygone era to fit in with Brownwood's pioneer Florida theme. 
The bridge will be constructed of corten steel, which weathers to form a rust-like appearance that eliminates the need for painting. Its parallel chord truss will span over the pond to an oak covered peninsula on the north side of State Road 44.  
"These structures will not only add to the ease of movement throughout The Villages community but they will continue to be a fun, celebratory sense of arrival and departure for years to come," said Mike Pape, land planner.
Both the small bridge and a larger multimodal path bridge over State Road 44 are part of a long-range plan to ensure smooth traffic flow to shopping, amenities and services Villages-wide.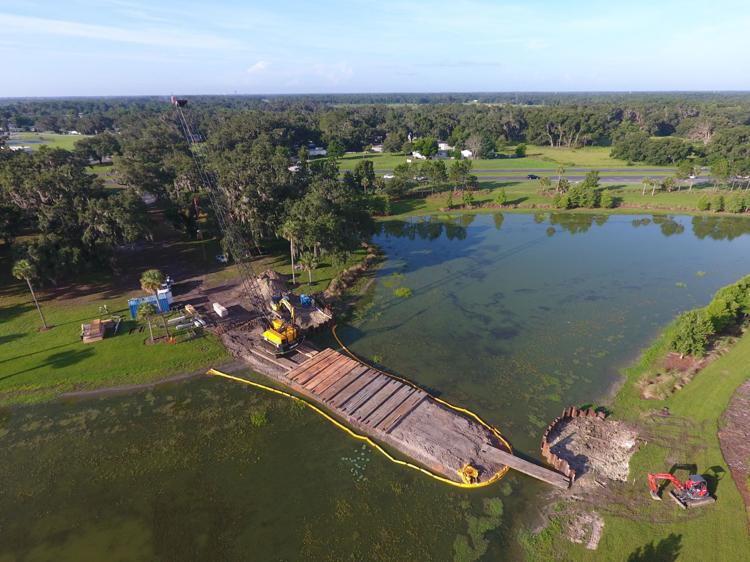 "We're really looking forward to the new golf car trail," said Rick Coleman, of the Village of Fenney. He and his wife, Vicki, were the first residents to bring a golf cart to the southernmost neighborhood when they moved in last June. They travel by golf cart daily to the Red Fox and Gray Fox golf courses, to Fenney Grill and to pools, pickleball, bocce and water volleyball. 
The couple is excited to take regular trips to Brownwood , Lake Sumter Landing and Spanish Springs.
"We love the fun of being in a golf cart," Coleman said. "It's like a convertible because you get the wind in your face. In the golf cart everything is at a slower pace and you really get to see and take things in a lot more. I'd love to be the first golf cart to use (the new bridge)."
The new bridges will make it possible to navigate the community by golf cart from Marion County Road 42 in the north all the way south from Brownwood across State Road 44.  
Building approval for the larger bridge over State Road 44 goes before the Florida Department of Transportation on Monday.
That bridge will also be constructed of corten steel with a 232-foot arched free-span truss. In keeping with the era, parts of the truss will be fastened by gusset plates and bolted connections. Large pillars made from native materials such as Sumter County fieldstone will be set at either end. 
"These elements are symbolic of historic town markers and were often utilized to mark important places," said Ed Plaster,  architect. "These impressive structures will serve as both symbolic and functional gateways." 
"It's often been said you know when you're in The Villages, and these new bridges are no exception," said Tracy Mathews, Vice President of Design, The Villages. "You'll know when you've arrived."
And there's more connectivity news in on the horizon.
Approval for another multimodal path bridge that will cross the Florida Turnpike is expected to come before the Florida Department of Transportation next month. 
That connection will allow residents to get to and from the Village of Fenney, the Villages of Southern Oaks, and all future neighborhoods and amenities in The Villages community.