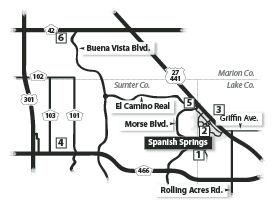 North of County Road 466
1. Rio Grande Recreation Area
Air Rifle Range: (1228 Rio Grande Ave.) Preliminary construction has started, and signs are up advising residents not to enter the construction zone.
2. Spanish Springs
Rialto Theater: (1105 Alonzo Ave.) Interior demolition work continues at this revitalization project.
3. La Plaza Grande North
U.S. Postal Service: (La Grande Boulevard) Interior framing work is underway at this new retail mail building.
4. Buffalo Ridge Plaza
Dollar Tree: (3675 Wedgewood Lane) Mechanical, electrical, plumbing and building work above ceiling is almost ready for inspection.
5. Spanish Plaines Plaza
Quest Diagnostics: (1552 Bella Cruz Drive, Suite A) The general contractor has received the permit to install wall sign and window graphic.
6. Villages of Marion
Chatham Glen Healthcare & Rehabilitation Center: (16605 SE 74th Soulliere Ave.) Staff continues preparations at the skilled nursing facility to accept patients.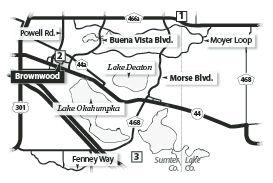 South of County Road 466a
1. Colony Plaza
Aspen Dental: (330 Colony Blvd.) Electrical second rough-in work is almost finished.
Dunkin Donuts: (340 Colony Blvd.) Electrical second rough-in work is almost finished.
2. Brownwood
Center for Advanced Healthcare at Brownwood: (2910 Brownwood Blvd.) Final punch-list work continues throughout this multispecialty medical center.
Wolfgang Puck Kitchen+Bar: (3003 Brownwood Blvd.) Staff is preparing the restaurant for the public opening.
Brownwood Woodshop: (3601 Buena Vista Blvd.) The multimodal path has been closed to traffic at the construction entrance to this building project. Building construction is scheduled to begin
Brownwood Train Station: (2795 Brownwood Blvd.) This retail building has received its certificate of final occupancy.
St. Johns County Courthouse: (3719 Meggison Road ) Interior buildout continues at this retail building.
Fiesta Grande Mexican Grill: (3647 Kiessel Road) Building plans are pending for this new restaurant.
Lofts at Brownwood: (2660 Trillium Ridge) Finish work continues in Building No. 1, drywall finish work continues in Building No. 3 and the northwest brick-tie work has been completed in Building No. 4 at this age-restricted apartment community.
Trillium Recreation Area: (2660 Trillium Ridge) Finish work is underway in the clubhouse.
The Villages Street of Dreams: (3561 Kiessel Road) Elevator pit wall inspection is pending.
Edward Jones: (2791 Brownwood Blvd.) Tenant buildout plans are being designed for this financial services office.
Technology Solutions Group: (6503 Powell Road) The base steel roofing membrane has been installed at the south end of the building for this company that specializes in design, implementation and maintenance of communication networks for small- to mid-sized clients.
Brownwood Bridge: (State Road 44 and Buena Vista Boulevard) Stone wall ramp work continues on both sides of the highway.
Chitty Chatty Bridge: (SR 44 and Morse Boulevard) Foundation work is underway on both sides of the highway.
3. Southern Area
The Villages Grown: (7275 State Road 44) Various phases of finish work is underway at this large-farm, controlled-agricultural project.
Chitty Chatty Recreation Area: (4911 Chitty Chatty Run) The Villages Recreation and Parks Department is preparing to equip and staff this amenity.
Bradford Recreation Area: (5371 Dray Drive) Swimming pool and pool building rough-in work continues at this neighborhood recreation area.
Magnolia Plaza: (Everglades Lane) Building permits have been issued for the east and west retail buildings at this neighborhood retail center.
Water Lily Recreation Area: (4710 Marsh Bend Trail) The Villages Recreation and Parks Department is preparing to equip and staff this neighborhood recreation amenity.